2021 was a big growth year in the robotics industry. But we also struggled with some of the same issues as other industries. The supply chain issues and delays seemed to be on everyone's mind and our vendors and purchasing worked tirelessly throughout the year. They definitely deserve a fist bump 🤛.
We can hope things will continue to improve for 2022. Our look back over the year analyzes the interest customers had in robotics. What were the popular robotic applications and what industries had the top requests? It is always interesting to see how MCRI aligns with the industry trends – I would have to say this year – we are right on! Check out each pie chart below and hover over the pie section to see more data.
** All numbers in this article are percentages.
Most Popular Robots – 2021 Popular Robots
According to IFR, the United States is the third largest market for using industrial robots. This means we are installing around 30,000 new robots a year. 2021 has been a record year and by the end of Q3 we had already reached the 29 thousand mark (a 37% increase over the previous year). The pandemic and labor shortage have made companies take a look at where robots can best help them continue to grow and meet demand. At MCRI we sell FANUC robots and they have a model and series to meet any manufacturing need. We saw a growing demand for the medium size robots in 2021.
---
Robotic Application – 2021 Popular Robot Applications
2021 saw a big jump in companies adding more fully automated solutions to their facility. These type of end of line automation solutions allow for better quality product and improved customer satisfaction. This is seen in our new category "End of Line Packaging & Palletizing" and a slight decrease in some of the single applications like case packing and labeling. Take a tour of a fully automated end of line packaging and palletizing solution with our End of Line Interactive Map
---
Industry – 2021 Popular Robotics Trends in Industries
MCRI had a variety of industries send us requests for robotics (see list of industries in the chart). The most requests came from the food & beverage and consumer goods industry in 2021. For the first time we are seeing other industries actually outpacing automotive in adding new robots. Data from Association for Advancing Automation (A3) shows a 40% growth in Food and Consumer Goods, which aligns with our finding for the year.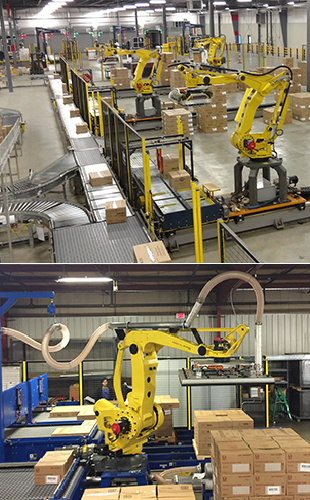 Looking Back over the Last 6 years
Palletizing has always been the biggest application companies come to us to improve. The biggest changes seem to happen in industries looking to add robotics. Look back over the years and see how each year wrapped up.
We wish everyone the best 2022!