First time purchasers of automated palletizing cells employing robots have interesting insights and questions about their new robotic work cells. Since 1996 when Motion Controls Robotics began selling and installing robotic work cells, there are a number of questions that come up repeatedly from our prospective and new customers who are new to robotics. Following is the third installment of a series that may provide those individuals new to robotic palletizing and other robot based manufacturing and warehousing applications some confidence to move forward with the project they have been considering.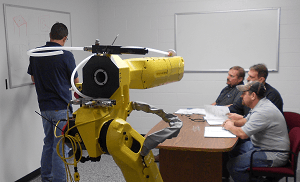 #3 – Will you train our operators, and how much training will they get?
The simple answer is "yes" and "as much as you require in order to confidently operate your new robotic work cell."
Customer training is part of every Motion Controls Robotics Inc (MCRI) supplied robot work cell. Both operations and maintenance training will be provided.
Your operations and maintenance personnel will have the option of doing the training at our plant in Fremont, OH or at your site, or a combination of these two locations.
MCRI has a specially configured training room adjacent to our manufacturing floor in Fremont, OH where a robot and controller can be brought in to allow for training. Hands-on training, often the best form of training, is typically initially provided on your work cell at the completion of setup / testing at our plant, or after it has been set up again at your plant, just before start of production. Additional hands-on training is frequently provided during initial production startup while we are providing startup support for the cell.
Formal classroom training is commonly provided in our classroom and / or in a classroom setting you would supply at your plant site. The training focuses on the following areas;
Startup procedure(s)
Operation of robot, end of arm tool, conveyor and other equipment as applicable
Error recovery procedure(s) with focus on "one button" recovery where it can be used
Special PLC logic in the robot cell, if applicable
Safety provisions of the robot work cell
Duration of the training is dependent on the project complexity but typically lasts from 8 to 24 hours of classroom and hands-on time.
Learning a new technology can be challenging, even for the most gifted students. It is not uncommon for new customer maintenance or operations people to require additional support with a new robot cell in the first 2-3 months of operation in spite of well attended training sessions.
For a limited time immediately following installation and startup of a new robotic palletizing cell or other robotic work cell, Motion Controls Robotics, Inc. provides additional support at no charge to you – 24 hours per day, 7 days per week. Should there be a need for additional formal training; MCRI will provide additional training at our regular published training support rates.
As a Level 4 Certified Servicing Integrator for FANUC Robotics, MCRI is able to provide training classes for any FANUC robot or controller and will even provide training for FANUC robots supplied by other integrators. Contact an MCRI Sales Engineer at 419.334.5886 for additional information and a quote on a robot training class configured to your specific needs.
See question #4 – "How long will the robot in our new robotic palletizer last?" in the series of Robotic Palletizing Questions
See question #5 – "Why is the safety system laid out the way it is?" in the series of Robotic Palletizing Questions