In many of the manufacturing plants the sales personnel from Motion Controls Robotics visit, we see hard automation based case packers and palletizing equipment sitting idle. This equipment is not running either because;
It has failed and is waiting for service, or
It has finished running production of a certain product it was designed for, and is waiting for the next production run of that same product
It has become obsolete because of changes to packaging requirements
Each of these scenarios place a drag on equipment utilization, negatively impact return on investment of the original equipment purchase for the equipment owner, and most importantly, can negatively impact the relationship of the manufacturer with its customer base.

Robotic case packing and palletizing cells offer a remedy for these challenges.
The primary piece of equipment in a robotic case packing or palletizing cell is the four or six axis servo controlled robot. For at least one robot manufacturer, FANUC Robotics America, 10 years or more of continuous error and failure-free operation of the robot is now common place. This superior performance record has been made possible through 30+ years of iterative improvements to the robot's mechanical and servo/electrical components. Today's robots have been made near bullet proof by a relatively small number of robot manufacturers selling a relatively large number of robots (250,000+ by FANUC Robotics America alone).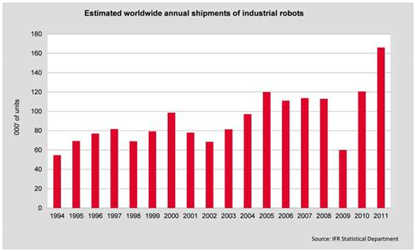 As packaging requirements change and manufacturers of hard automation case packing and palletizing solutions continue to come and go, the major elements of hard automation based solutions continue to be customized for each application by their manufacturers. The large number of hard automation type suppliers selling a relatively small number of units does not create the opportunity to optimize and refine the servo setups and mechanical workings of the core element of hard automation based case packing equipment in the same manner that robot manufacturers have had.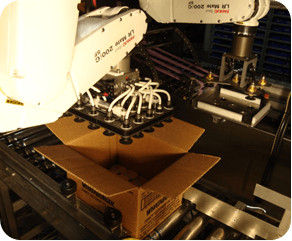 A  robotic case packing cell (on left) along with the original (on right) non-servo  driven, hard automation case packing solution it replaced. Compare the clean, simple robot arm and easily  accessible end-of-arm tooling on the left with the cluttered, specialized layout of  mechanical and pneumatic components in the hard automation solution to the  right
While hard automation equipment lacks refinement and development found in today's robots, it also suffers from specialization.
The first impact of hard automation specialization is production limitations. Should demand drop for the particular product the hard automation cell is designed for, the equipment will sit idle until demand returns. On the other hand, robotic case packing and packaging solutions lend themselves to handing a wider range of product due to programmability of the robot's motion, flexibility of end-of-arm tool design and ease of end-of-arm tooling swap out. At Motion Controls Robotics, we have developed robot based case packing and palletizing solutions capable of handling not just a few narrowly defined case sizes or pallet patterns, but tens and sometimes hundreds of sizes and patterns. With the ability to run many different case sizes or pallet patterns, it is far more likely for a manufacturer to be able to keep a robotic case packing or palletizing cell busy, rather than having it sit idle because of reduced demand for product(s) that fit in a narrow range of machine capability.
Robotic based case packing and palletizing solutions also offer advantages to meet today's rapidly changing market demands for packaging. Continuous improvement in robot software and controls over the last 30+ years has made robot setup more user-friendly. When significant changes in packaging occur, or changes to a company's core business occur, it is common for robotic work cells to be redeployed and repurposed. So, even in the event that a robot cell's original purpose is completely eliminated to due product or demand changes, it is likely that some portion of the cell will retain some value rather than having to completely scrap a specialized single purpose machine.
At the end of the production day, customer satisfaction is one of the primary measures of a customer's business. With the flexibility, precision, and uptime offered by robotic case packing and palletizing work cells, a company improves the likelihood it will keep its customers satisfied with dependable delivery of its products.