First time purchasers of robotic work cells have interesting insights and questions about their new robotic work cells. If you are new to robotic palletizing and other robotic work cell for manufacturing and warehousing, perhaps the following will give you some confidence to move forward on that project you have been considering.
#5 – Why is the safety system laid out the way it is? Safety is every robot manufacturer and integrator's first priority, and generally is a first priority of any company interested in employing a robot. Robotic work cell safety is governed by the Robotic Industries Association, or RIA and the American National Standards Institute, or ANSI.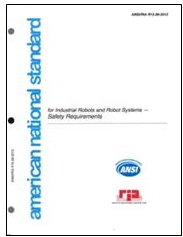 The latest governing document is ANSI/RIA R15.06-2012 at the time of this blog entry (September 2013).
Some of the basic concepts of the standard include; lockout/tag-out guidelines and requirements, minimum clear distance from operating equipment, dual channel safety and acceptable safety barrier types. The standard is designed to protect programmers, operators, and maintenance personnel from the hazards of automatic equipment operation.
While much of the standard is clear cut, there is still room for interpretation and one company doesn't always "solve" a safety challenge the same way another company would. As a customer of a new robotic palletizing cell, it is smart to ask your supplier/integrator for a copy of the Risk Assessment Review that was done for your cell; this may give you some insight as to why light curtains are set at a certain distance from load positions or along conveyors, why fences are located where they are, why a safety rated air cutoff device was provided, why the robot end of arm tool goes to a particular state or condition when an emergency stop occurs, why emergency stop pushbuttons and cords are located where they are and operate the way they do.
Also, know that safety standards are periodically updated as new safety technology becomes available (such as Keyence's safety laser scanner) and as different safety related circumstances occur in industry. The goal is to provide the latest, best safety guidelines for every new robot cell installed. While previous robot cell safety design is generally "grandfathered" in when a new safety standard is published, it is wise to periodically review the design of the safety equipment on your existing robot cell to determine whether or not there are logical new safety standards and equipment to incorporate into your cell.
Watch here for additional installments of the most commonly asked questions about robotic palletizing cells. Your sales contact at Motion Controls Robotics, Inc. of Fremont OH, 419.334.5886 can also help you with your questions about work cells safety requirements for your robotic palletizing or material handling project.