Get information about roll handling applications for large to small roll processes.
Join Motion Controls Robotics at the
Converting and Package Printing (CPP) Expo Booth #4421
September 13-16 at McCormick Place in Chicago
Customer Priority Code 30592
Visit the Motion Controls Robotics' booth #4421 and get a card for free preventative maintenance
This card is good for one year with the purchase of a new robotic roll handling system. This offer is worth more than $900 for each robot in the system. Even if you are not ready for a system today, pick-up a card for when you are!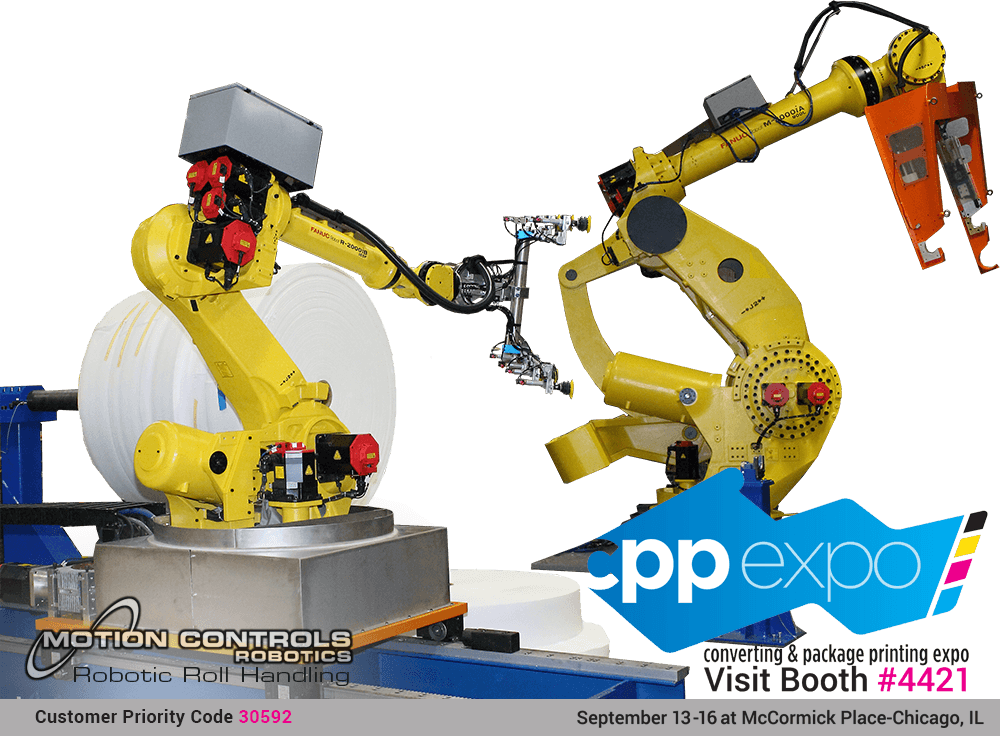 Roll Handling Applications:
Palletizing
Slit roll handling
Slitter loading/unloading
Roll wrapping and packing
Roll winder tending
Roll upenders
Converting
General roll/material handling
See videos of a variety of roll handling applications and speak to an MCRI representative about your needs.
Use our priority registration link to attend the combined CPP Expo/Graph Expo for free.

Link – Free Registration this link includes our registration code, so you will not need to enter any code. When you get to step three of the registration process you will see the option to select FREE registration.
Code – You can also go to graphexpo.com to register and enter the code 30592 in the top box in Step One of the registration process.
Visit Booth #4421/Customer Priority Code 30592 – To set up a meeting to discuss robotic roll handling with a MCRI Sales Contact during the CPP Expo, contact Tim Ellenberger at (419) 334-5886
CPP Expo Show Information
2015 Converting and Packaging Printing Expo (CPP Expo)
McCormick Place, Chicago, IL
Visit Booth #4421 to see robotic roll handling applications
Show Hours
Sunday, 9/13 12:00pm – 5:00pm
Monday, 9/14 10:00am – 5:00pm
Tuesday, 9/15 10:00am – 5:00pm
Wednesday, 9/16 10:00am – 3:00pm
If you have any questions about the show use our robotic information request form and we will get back to you with the answers.