MCRI Exhibits PRESS RELEASE
Motion Controls Robotics Inc. is excited to share new end of line production solutions and software at the 2021 Converters Expo in Green Bay, Wisconsin.
FREMONT, OH 7/13/2021 – The 2021 Converter's Expo at Lambeau Field in Green Bay, Wisconsin is just one month away! Motion Controls Robotics, Inc (MCRI) is excited to exhibit this year and share new end of line production solutions and software. Join MCRI starting Monday, August 9 with a Welcome Reception at 6pm. Then walk the Expo and visit MCRI's booth #20 on Tuesday anytime from 9:30am – 3:30 pm. During the day on Tuesday, there will be many opportunities to network and learn more about getting started with automation projects.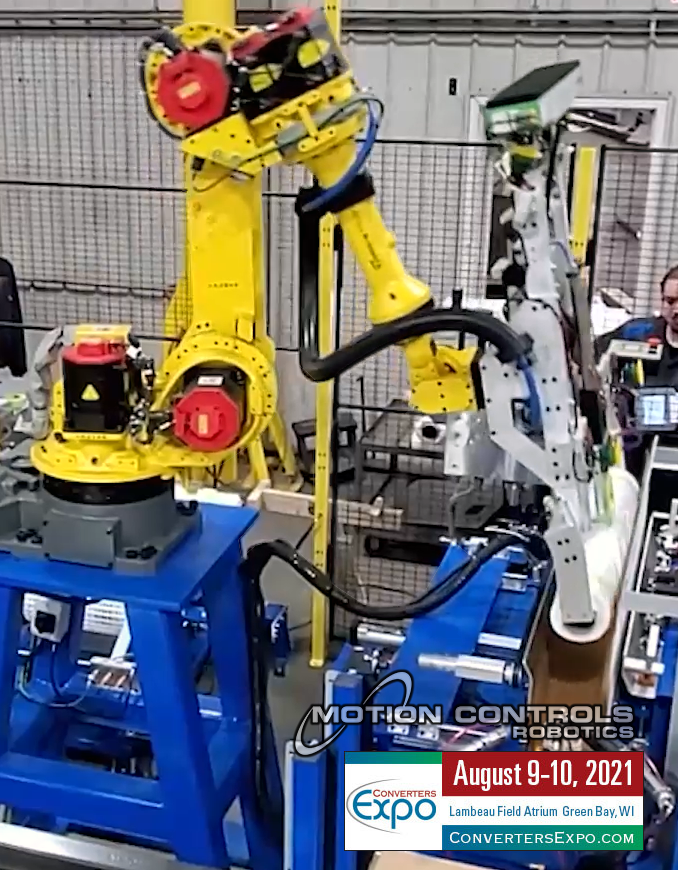 With 113 exhibitors' booths and more than 800 attendees, this should be an informative show for paper, film, plastics, and nonwovens manufacturers. MCRI has worked with companies in each of these industry segments to improve their production process through integration of automation and robotics. The recent employee shortage has highlighted this need for automation and robotics to make sure your company stays competitive and can meet growth goals.
MCRI Exhibits with a FANUC CRX
In the booth, MCRI will have a FANUC CRX-10iA collaborative robot demonstrating one way to use collaborative robots for your end of line process.
"Collaborative applications such as ID and OD roll labeling, core positioning and placing, and adding slip sheets have a very high success rate and quick ROI. We are excited to show you how we can incorporate these into your end of line process, "explains Jim Skelding, Director of Sales & Marketing at MCRI.
Stop in at booth #20 to see how easy the CRX is to integrate and view videos of recent systems and demos of new software for improving production effectiveness through dashboarding.
MCRI has team members ready to schedule 15-30 minutes during the Expo to sit down and discuss new projects (email – sales@mcri-us.com for more information). Or stop in at booth #20 to meet with MCRI representatives who will review new project(s) ideas with you.
---
ABOUT MOTION CONTROLS ROBOTICS, INC
Motion Controls Robotics (MCRI) provides solutions for customers by designing and building turn-key end of line applications, fulfillment solutions, and general material handling automation.  MCRI offers unmatched capabilities to elevate companies to the next tier of Industry 4.0 by combining automation expertise with full plant and front office connectivity interfacing with ERP/WMS systems.  MCRI has been implementing robotic automation since 1995, is a Certified Servicing Integrator for FANUC America, and Certified Integrator by the Robotics Industry Association.