Motion Controls Robotics to exhibit at the 10th annual Converters Expo in Green Bay, Wisconsin
Fremont, Ohio – Motion Controls Robotics, a leading provider of robotic integration solutions with 24/7 service & support, will be exhibiting in booth #3 at the 2017 Converters Expo. The Converters Expo will be held in the Lambeau Field Atrium in Green Bay, Wisconsin on Thursday, March 23, 2017 from 9:30 a.m. – 3:30 p.m.
Motion Controls Robotics is excited to be joining the celebration at the 10-year anniversary of the Converters Expo. The Converters Expo has become a leading show for the converting industry by bringing together over a hundred companies specifically focusing on innovative solutions for the converting and packaging industry.
Motion Controls Robotics provides automation solutions to the paper, film, foil, and nonwovens industries for a variety of applications including:
Roll Handling
Roll Labeling
Roll Wrapping & Bagging
Shaft & Core Handling

Material Handling
Palletizing
Vision-guided systems
Automated Guided Carts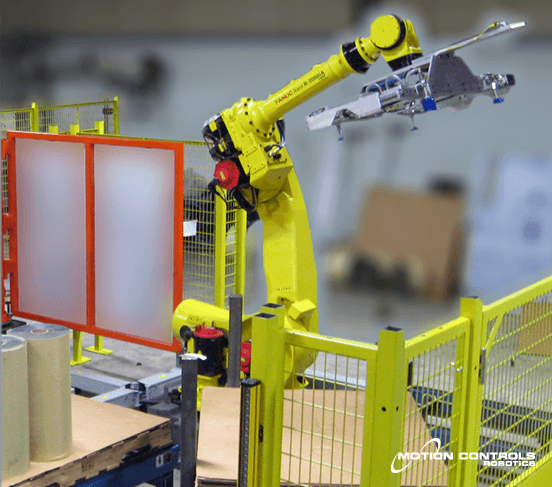 Adding robotics to your process means you don't have to sacrifice anything. With robotics, you can maximize productivity, maintain a quality product with NO damage, and improve worker safety. As a FANUC level 4 certified servicing integrator, Motion Controls Robotics brings flexibility to the industry through the ability to lift and transfer small rolls up to master/parent rolls.
Stop by Booth #3
Stop by booth #3 to discuss these applications and view previous Roll Handling Systems Motion Controls Robotics has designed and integrated for companies in the converting industry.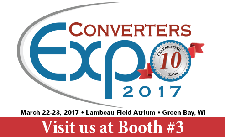 Registration for the Converters Expo is $65 until March 13th. This price includes parking, lunch buffet, 2 complimentary drink tickets, and a welcome reception. The welcome reception is on Wednesday, March 22, 2017 6:00-7:30 pm in the Green Bay Packers Hall of Fame. This reception provides a chance to network and discuss industry issues. Motion Controls Robotics' Director of Sales & Marketing, James Skelding, will be in attendance and ready to discuss Robotic Roll Handling applications.
Visit Booth #3 at the Converters Expo – To set up an advanced meeting to discuss specific robotic roll handling with a Motion Controls Robotics Sales Contact during the Converters Expo, contact James Skelding at (419) 334-5886 or through his online contact form.