Features of the SmartCart AGC 300T – Model 300 Tugger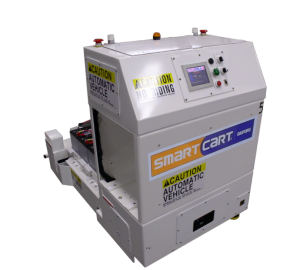 Model 300T SmartCart AGC offers flexibility, reliability and scalability at an affordable price – most sites see an ROI in less than 3 months.
AGC Tugger is designed for moving pallets from conveyors within seconds.
Safety laser scanners detect the presence of objects and operators.
AGC Tugger Carts follow a magnetic path which can be changed easily – CartTools software is user friendly making it easy to make path changes.
RFID transponder locations simplify deployment.
The Smartcart AGC 300TT's has hands-off operation through automatic charging to allow 24/7 operation.
The SmartCart Model 300TT is constructed from steel and powder coated with industrial enamel paint for extra protection.
Optional System Automation Manager (SAM)
Other Optional Features fro the AGC Tugger:
Cover for Battery Pack
Fast Automatic Charging
Radio Communication
Wheel Brushes
Music Generator
Manual/Automatic Ring Hitch
Reverse Paddle Bumper for SmartSteer™
Cab Side Covers
Music Generator
*SmartCart is a registered trademark of Daifuku Webb.