Polyethylene terephthalate (PET) is a plastic resin that is widely used in the bottle manufacturing industry. Among the varied uses for PET in bottling are water, soft drinks, teas, and juices. Each year 5,764 MMlbs* of this resin is used to produce plastic bottles here in the United States. Averaging the weight of bottles produced, calculates to about 73 billion plastic bottles manufactured every year in the United States. That comes to over two thousand a second.
With those types of numbers, automating the manufacturing process become essential. Motion Controls Robotics developed our first SUBTA (Stand Up Bottle Take Away) system to remove bottles from blow molding machines around the turn of the century. As we celebrate our 20th anniversary this year, we have integrated more SUBTA systems into the bottle manufacturing/filling process than any other robotic systems integrator. One customer stated, "Everything in the plant runs much more smoothly with the Robotic SUBTA." Which is why Motion Controls Robotics has had so many repeat customers and orders.
The basic benefits of the robotic SUBTA is the flexibility it provides the manufacturer: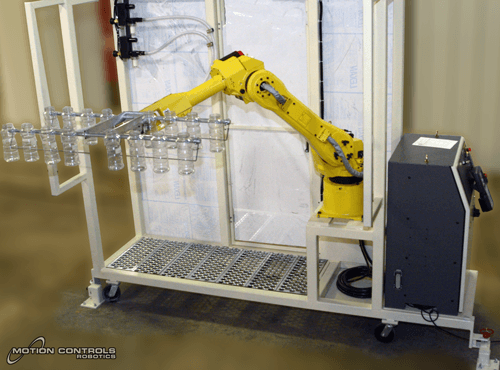 The SUBTA is portable and designed to work with a variety of molding machines
The system enables in-line automated PET bottle handling and unloading
MCRI's simple tooling picks angled or tapered bottles
The success of our system is due in large part to the tooling of our SUBTA systems being interchangeable. Our customers find this convenience a big selling point for our Robotic SUBTA system," said Scott Lang, President, Motion Controls Robotics, Inc.
SUBTA video showing the portable cell being moved in-line to pack bottles
PET is a sustainable plastic because of its high recyclability which has made it very popular in the bottling industry. Since its invention in 1973, the use and popularity of PET has continued to grow. The biggest seller being bottled water which has been sold since the 1760s.
Use our robotic request for information form if you have questions about the SUBTA.

**Facts about PET plastic thanks to – The National Association for PET Container Resources (NAPCOR)