This week FANUC is introducing their new R-30iB Plus robot controller at their headquarters Open House in Japan. Many of FANUC's global customers attend this open house to learn about new innovations in automation. Over the years, FANUC has released a variety of controllers that implement and take advantage of new technologies while also continually improving the user experience.
R-30iB Plus
The new R-30iB Plus robot controller was developed to make automation more user-friendly through improved user interfaces.
The main features of the new R-30iB Plus controller include:
Easier to use iPendant with improved screen resolution and processing power
Improved processing performance of hardware and software
The iHMI has an icon based user interface for more intuitive navigation through setup and programming (tutorials are also available)
Signal processing cycle is shorter and signal output timing has been improved
R-30iB Plus Floorspace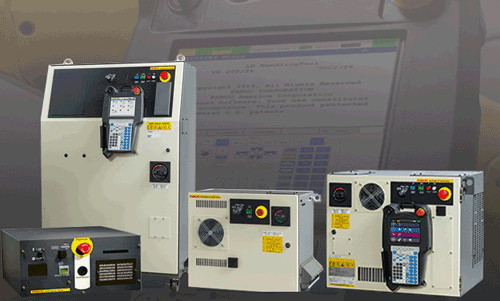 These controllers, while becoming more powerful, are also becoming smaller to take up less floor space. FANUC has 4 main cabinet types for the controllers.
The R-30iB Plus cabinet types available
A-Cabinet – FANUC's standard cabinet that is both stackable and compact
B-Cabinet – Same as the A-Cabinet but has space for extra amplifiers or I/O modules
Mate Cabinet – This stackable cabinet is for use with LRMate and other smaller robots
Open Air Cabinet – Also for smaller robots and can be installed in dirty environments
Overall, R-30iB Plus contributes to the easier use of robots and automation in the manufacturing industry. ~ FANUC America Press Release
Vision Setup
Integrating vision into a robotic system opens up your automation possibilities. So, for integrators, having more power for vision, makes designing more demanding systems a possibility. The new R-30iB Plus can transmit images 4 times faster than before. Also, setup of the vision system can be handled much more efficiently with the new interface.
The new R-30iB Plus makes adding a robot system to your facility a simpler process. Once the system is integrated, the operators will have a more user friendly interface with intuitive navigation. This helps to increase the overall system efficiency. If you would like to learn more about this new FANUC controller, contact Motion Controls Robotics.