With a payload up to 20 kg (44 pounds), the M20iA series is best in its class when it comes to payload, reach, and axes speed. The utilities for the M20iA are found in the hollow arm to eliminate dressout issues and provide longer cable life. The M20iA series also offers a convenient shelf on top of the arm for peripheral devices. All this, along with the built in vision, simplifies maintenance and integration of the robot.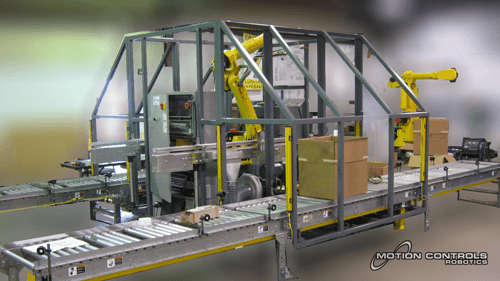 This 6 axis robot is small enough to work in a very tight footprint and can be mounted to the floor, angle, wall or ceiling. The M20iA comes standard with pneumatic and electrical connections for end of arm tooling options.
FANUC America recommends using the M20ia series for robotic applications such as:
| | |
| --- | --- |
| Assembly | Dispensing |
| Material handling | Machine load/unload |
| Material removal | Waterjet and Laser cutting |
| Machine tending | Picking and packing |


For all the specs and work envelope information Download the M20iA Robot Series tech sheet
Motion Controls Robotics has integrated the M20iA robot into a variety of robotic systems.
Case Erector – using a FANUC M20ia

Click image to watch video of M20iA Case Erecting

The M20iA's tight work envelope and vision integration makes it the perfect robot to add to our case erector platform. This MCRI product has the capability to erect up to 8 different case sizes without any change-over downtime. It is a popular end-of-line solution for companies that are packaging a variety of products.

Assembly using a FANUC M20ia

Click image to watch video of a FANUC M20ia doing robotic assembly.

This M20iA is part of an assembly line. The M20iA was selected based on payload and the ability to work in a tight workspace. This robotic system uses the integrated iRVision and the standard pneumatic connection for end of arm tooling options to correctly align and place a glass lid.

Case Packing – using a FANUC M20ia

Click image to watch video of M20iA Case Packing.

Motion Controls Robotics has developed many case packing systems that have used the M20iA. The payload size and robot size make it perfect for integrating into portable case packing stations.
Contact Motion Controls Robotics at sales@motioncontrolsrobotics.com or use our ROBOTICS REQUEST INFORMATION form to send us any questions you might have about using a M20iA for an upcoming automation project.