Robotic Order Fulfillment Solution for Beverage Distribution
Mixed-load order fulfillment is a task found in most beverage distribution facilities.
MCRI has developed a standard full layer mixed SKU palletizing system.
Below you will find basic information about the system and a downloadable tech sheet is available for system specifications.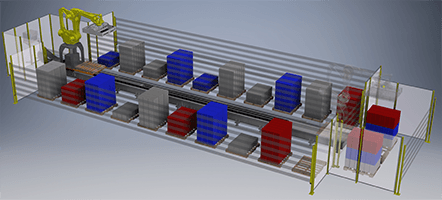 ---
Full Layer Mixed SKU
Palletizing System
The simulation video to the right shows mixed SKU, full layer pallets being built. The robot is picking a variety of 12 & 24 packs of 12 ounce cans from source pallets to build the order pallets. The robot and pallet travel up and down a Gudel Rail selecting the correct SKUs needed to build the mixed load pallet.
What to Expect from a Robotic Order Fulfillment Solutions for Beverage Distribution
Your full layer, mixed SKU per pallet, robotic order filling system will take advantage of:
Motion Controls Robotics can design a mixed pallet, full layer order fulfillment system to meet your setup and needs. Each system will utilize the benefits of innovations and technologies that have repeatedly proven to increase efficiency and ROI.
Product Video

Robotic Order Fulfillment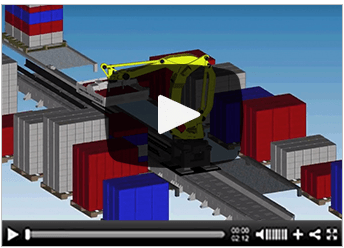 A Robotic Beverage Distribution System Delivers: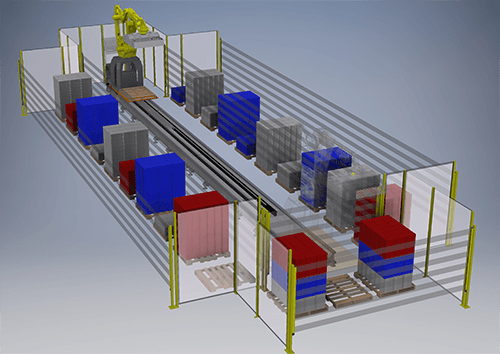 Improved accuracy in product selection
Fewer customer returns and refunds due to picking errors
Flexibility to change orders on the fly
Better shipped load integrity and happier customers
Centralized data entry and integration with ERP system
Less damage in packaging – better quality retail-ready pallets
Improved customer order fulfillment accuracy and satisfaction
Improved bottom line of your distribution facility