Robotic Case Erectors
Case erectors are an automated end of line packaging solution that solve ergonomic issues where employees have to perform repetitive tasks. There are a variety of ways to setup a case erector to match your packaging process speed and needs. Adding a case erector can even save floorspace in certain situations.
Description
Robotic Case Erectors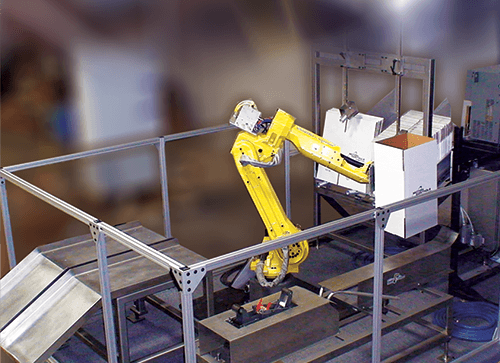 Watch video above to see examples of all the case erectors.
Random Robotic Case Erectors
The random case erector combines a M20iD or M10iD six axis robot with multiple case magazines and a bottom flap folder with integrated case sealing head.
The FANUC robot has a flexible end of arm tool to pick and erect multiple case sizes to eliminate changeover downtime. The standard system features three case magazines, but the system can be setup to run additional case sizes.
System Add-ons Available
Ethernet connectivity for automatic case size selection, and for remote diagnostics and support
Additional case magazines
High speed bottom sealing with servo adjustable side belts for increased speed
Larger and smaller case sizes available on request
Two magazine set-up for no-change over case erector
The random case erector robot cell can be adjusted to fit the needs of your application.
One recently installed random robotic case erector was able to replace the space of 4 regular case erectors. When a certain size cases is needed, there is a call sent to the robot and the robot builds the needed amount of the case size requested. The cases are taken to the packaging location using one of their AGVs.
Inline Robotic Case Erectors
Using an End of Arm tooling that can pick cases and product, case are built and product is placed directly in the case all in the same robot cell.
Erect – Pick – Pack – Palletize
If you have a low volume packaging process, one or two robots can do it all. These robot cells are great for packing small items like pouches, food product, or other small products. The robot starts by erecting a case that is then placed on a conveyor to be packed. The case is then picked, sealed and palletized. The pallet can be manually removed from the cell or supplied by a pallet dispenser and exit conveyor.
Read about our Case Erector Projects
Additional information
| | |
| --- | --- |
| Standard Minimum Case Size | 8" x 6" x 5" Outside Dimensions |
| Standard Maximum Case Size | 20" x 16" x 18" Outside Dimensions |
| Case Magazines | Comes standard with 3 Case Magazines * System can be expanded to fit needs based on floorspace and area available |
| Case Sealing | Integrated tape dispenser comes standard with high speed and hot glue available |