The random case erector combines a FANUC M20iA/20 6-axis robot with multiple case magazines and a bottom flap folder with integrated 3MTM case sealing head.
The FANUC robot has a flexible end of arm tool to pick and erect multiple case sizes to eliminate changeover downtime. The standard system features three case magazines, but the system can be setup to run additional case sizes.

Case Size Specification:
Standard Minimum Case Size: 8" x 6" x 5" Outside Dimensions
Standard Maximum Case Size: 20" x 16" x 18" Outside Dimensions
The random case erector is an automated end of line packaging solution that solves ergonomic issues with employees doing repetitive tasks. The system includes an interactive color touchscreen that employees can use in a manual mode to quickly change the case size that is being erected.
Other features available for the random case erector include: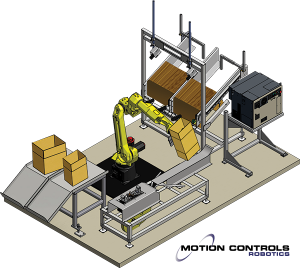 Ethernet connectivity for automatic case size selection, and for remote diagnostics and support
Additional case magazines
Hot Melt Glue closure
High speed bottom sealing with servo adjustable side belts for increased speed
Larger and smaller case sizes available on request
Two magazine set-up for no-change over case erector
The image above is an example of the robotic case erector cell with two different case sizes being built. If you would like to learn more about the random case erector, email sales@motioncontrolsrobotics.com for a brochure or more information.