Automation for Plastics and Containers
Sorting, Picking, Packing, and Palletizing
Everything in the plant runs much more smoothly. More bottles are being produced, while the pace seems slower with a reduction in complexity in the system.
~Plant Manager for a Plastic Bottle Manufacturer
Watch video of options for Sorting, Picking, Packing, and Palletizing Plastic Bottles
The plastics & container industry is very dynamic with line changeovers every time product orders are filled (can be dozens a day). Add to that, a demand to meet end consumer needs for varying sizes in product selection and any robot systems installed must be not only flexible but allow for quick changeover.  Motion Controls Robotics understands these issues from working with various companies in the industry, and we design our systems to accommodate each customer's needs.
Your dynamic environment may seem like a complication when deciding to add robotics to your facility, but it is actually the perfect reason to look into automating bottle case packing, sorting, and palletizing. Robotics adds a high amount of reliability, flexibility, and even mobility to these applications.
Eliminating the manual process of picking and packing bottles
improves worker safety by decreasing repetitive motion injuries.
reduces cost by simplifying the process and changeovers.
allows for the ability to better plan for product accumulation.
increases quality -more consistent controls of packing bottles.
improves throughput and line speeds
adds consistency to packing certain varieties of products.
brings straightforward programming of new products.
Robot systems can be flexible enough to handle various sizes of containers or cases. If needed, the robot could be reallocated to another part of the facility if the workload changes.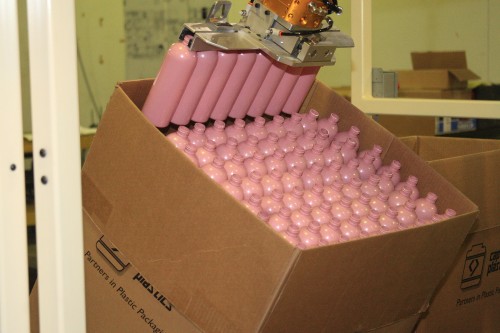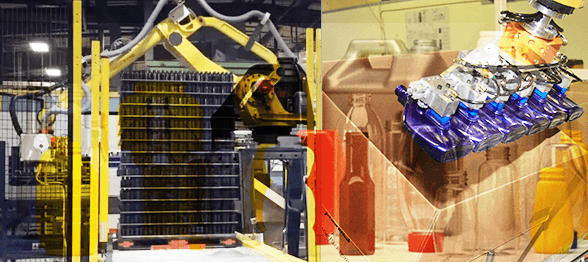 Customer Testimonial
From a competitive standpoint, using this robotic system has improved our technological image. It also has improved safety and ergonomics.
~Plant Manager for a Plastic Bottle Manufacturer
Plastics and Containers Case Study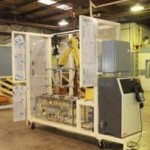 Plastics manufacturer improves safety and ergonomics while increasing productivity with the Motion Controls Robotics "Robotic SUBTA"