Need Spare Parts? We are on it!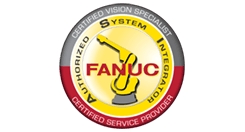 Motion Controls Robotics has a full stock of spare parts available for replacement parts and maintenance. As a FANUC Authorized Servicing Integrator, we are able to get you all the parts you need at a discounted rate. We also have FANUC certified servicing engineers available for preventive maintenance and repair needs.

*If you do not find the part you are searching for email customer service or call
419-334-5886
FANUC Spare Parts Lookup – Enter Search Parameters
Below are search parameters to help narrow the results to find the part(s) you are needing for your FANUC robot. If you know the FANUC specification number you can search by that as well.
*If the table takes too long to load, refresh the browser and the table will load quickly.
| 0 | Type of Part | Enter Controller (Ex. R-30iB) | Enter Robot Name (Ex. M-20iB) | Robot Model | 0 | FANUC Specification Number | 0 | 0 | 0 |
| --- | --- | --- | --- | --- | --- | --- | --- | --- | --- |
| A1 | FANUC Cable | R-30iB, R-30iB Plus/R-30iA/R-J3iB | M-410iB | 140H | J1, J2, J3, J4, J5 | A660-8017-T336 | K201 | J1-J5 PULSECODER+EE | |
| A2 | FANUC Cable | R-30iB, R-30iB Plus/R-30iA/R-J3iB | M-410iB | 140H | J1, J2, J3, J4, J5 | A660-8017-T337 | K202 | J1-J5 PULSECODER | |
| A3 | FANUC Cable | R-30iB, R-30iB Plus/R-30iA/R-J3iB | M-410iB | 140H | J1, J2, J3, J4, J5 | A660-8017-T338 | K203 | J1-J5 PULSECODER+EE+SERVO HAND | |
| A4 | FANUC Cable | R-30iB, R-30iB Plus/R-30iA/R-J3iB | M-410iB | 140H | J1, J2, J3, J4, J5 | A660-8017-T345 | K221 | J1-J5 POWER | |
| A5 | FANUC Cable | R-30iB, R-30iB Plus/R-30iA/R-J3iB | M-410iB | 140H | | A660-2007-T181 | K232 | AS | |
| A6 | FANUC Cable | R-30iB, R-30iB Plus/R-30iA/R-J3iB | M-410iB | 140H | J1, J2, J3, J4, J5 | A660-8017-T339 | K251 | J1-J5 POWER+SERVO HAND | |
| A7 | FANUC Cable | R-30iB, R-30iB Plus/R-30iA/R-J3iB | M-410iB | 140H | | A05B-1043-D001 | K301 | Camera | |
| A8 | FANUC Motor | R-30iB, R-30iB Plus/R-30iA/R-J3iB | M-410iB | 140H | J1, J2, J3 | A06B-0268-B605#S000 | J1, J2, J3 | aiS30/4000 | |
| A9 | FANUC Motor | R-30iB, R-30iB Plus/R-30iA/R-J3iB | M-410iB | 140H | J4,J5 | A06B-0235-B605#S000 | J4,J5 | aiS8/4000 | |
| A10 | FANUC Reducer | R-30iB, R-30iB Plus/R-30iA/R-J3iB | M-410iB | 140H | J1 | A97L-0218-0896#400C3-30 | J1 | | |
| A11 | FANUC Reducer | R-30iB, R-30iB Plus/R-30iA/R-J3iB | M-410iB | 140H | J2 | A97L-0218-0897#450N-209 | J2 | | |
| A12 | FANUC Reducer | R-30iB, R-30iB Plus/R-30iA/R-J3iB | M-410iB | 140H | J3 | A97L-0218-0898#320N-169 | J3 | | |
| A13 | FANUC Gear | R-30iB, R-30iB Plus/R-30iA/R-J3iB | M-410iB | 140H | J1 | A290-7043-X221 | Gear J11 | J1-axis motor | |
| A14 | FANUC Gear | R-30iB, R-30iB Plus/R-30iA/R-J3iB | M-410iB | 140H | J5 | A290-7324-X423 | Gear J51 | J5-axis motor | |
| A15 | FANUC Gear | R-30iB, R-30iB Plus/R-30iA/R-J3iB | M-410iB | 140H | J4 | A290-7324-Y421 | Gear J41 | J4-axis motor | |
| A16 | FANUC Gear | R-30iB, R-30iB Plus/R-30iA/R-J3iB | M-410iB | 140H | J2 | A97L-0218-0904#209 | input gear kit | J2-axis motor | |
| A17 | FANUC Gear | R-30iB, R-30iB Plus/R-30iA/R-J3iB | M-410iB | 140H | J3 | A97L-0218-0905#169 | Input gear kit | J3-axis motor | |
| A18 | FANUC Stopper | R-30iB, R-30iB Plus/R-30iA/R-J3iB | M-410iB | 140H | J1 | A290-7043-X215 | Stopper ass'y | J1-axis | |
| A19 | FANUC Stopper | R-30iB, R-30iB Plus/R-30iA/R-J3iB | M-410iB | 140H | J2,J3 | A290-7313-X351 | Stopper | J2,J3-axis (5 pcs/1 robot) | |
| A20 | FANUC Stopper | R-30iB, R-30iB Plus/R-30iA/R-J3iB | M-410iB | 140H | J2,J3 | A290-7324-X343 | Stopper | J2,J3-axis (4 pcs/1 robot) | |
| A21 | FANUC Stopper | R-30iB, R-30iB Plus/R-30iA/R-J3iB | M-410iB | 140H | J3 | A290-7324-X343 | Stopper | J3-axis | |
| A22 | FANUC Stopper | R-30iB, R-30iB Plus/R-30iA/R-J3iB | M-410iB | 140H | J1 | A6-BA-24X80 | Bolt | J1-axis | |
| A23 | FANUC Stopper | R-30iB, R-30iB Plus/R-30iA/R-J3iB | M-410iB | 140H | J1 | A6-WM-24S | Washer | J1-axis | |
| A24 | FANUC Stopper | R-30iB, R-30iB Plus/R-30iA/R-J3iB | M-410iB | 140H | J1 | A97L-0218-0484#3125 | Bush | J1-axis | |
| A25 | FANUC O-ring | R-30iB, R-30iB Plus/R-30iA/R-J3iB | M-410iB | 140H | J3 | A98L-0040-0041#272 | O ring | J3-axis reducer | |
| | Type of Part | Enter Controller (Ex. R-30iB) | Enter Robot Name (Ex. M-20iB) | Robot Model | 0 | FANUC Specification Number | | | |