Labeling - Automated Label Build & Application
Automating the labeling of products is the best way to error proof and customize your end of line process. We label rolls, cases, pallets, and individual products. Your labels can be custom designed using Easy Label, or comparable software, or setup to use customer ZPL data.
Label Information
MCRI uses a proprietary software called ImpactIQ to develop labels that can pull information from your product database and combine production information to print case/product specific labels.
Labels can include descriptive and traceability information:
Case/Product Weight – Requires an inline scale that weighs product as it passes.
Production Time – Time is captured and placed on label for tracking.
Product Description – Product description can be pulled directly from your product database and placed on the label.
Case/Lot Number– For order fulfillment, case number can be included – example case 6 out of 50.
Lot Date – Can be order date or date of fulfillment.
Order Number
Custom labels can be designed to fit an almost unlimited amount of needs. A huge benefit of automating labeling with ImpactIQ is every case label that is applied can be completely different with different information.
Some examples of label customization are:
Adding a barcode to the label
Color Labels to match product color – This label information on the case helped the end customer easily sort incoming product.
Multiple products coming down the same line are properly labeled.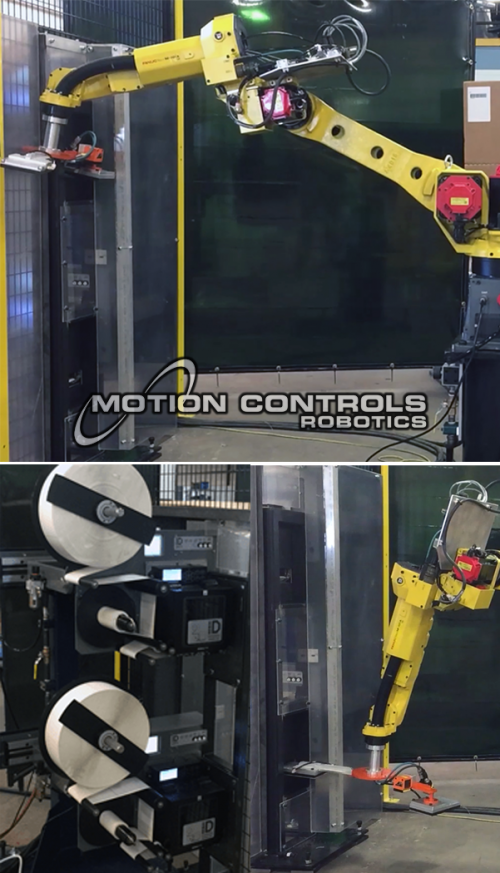 Types of Labeling
Case/Product In-Line Labeling
Product can be spaced and conveyed past a label printer/applicator that is placed inline as the product moves through to the palletizing/case sealing area.
Barcodes can be scanned upstream to produce labels or information can come from database product information.
Multiple label printer applicators can be used in line for increased rate or if more than one label needs to be placed.
In-line labeling can be setup for rolls, cases, pallets, and/or individual products.
Robotic Labeling
Robot labeling can be used when label application is more complicated.
Robot can add label to the roll ID or any other location- more about roll labeling >>.
Labels can be added on adjacent sides of product or multiple labels can be placed.
Vision can be used to place labels in a specific or consistent location on the product.
Labeling can be verified for proper placement.
Robotic labeling can be setup for rolls, cases, pallets, and/or individual products.
High speed robots, like Deltas, can be added for high rate applications.
Full Pallet Labeling
Finished pallets can get multiple labels: on opposing sides or every side.
More than (1) label to the same side at different heights to accommodate end consumer scanning variants.
Stretch wrappers can be added before or after the in-line labeling.
Robots can be used to label pallets and place corner blocks or other pallet features needed before shipping.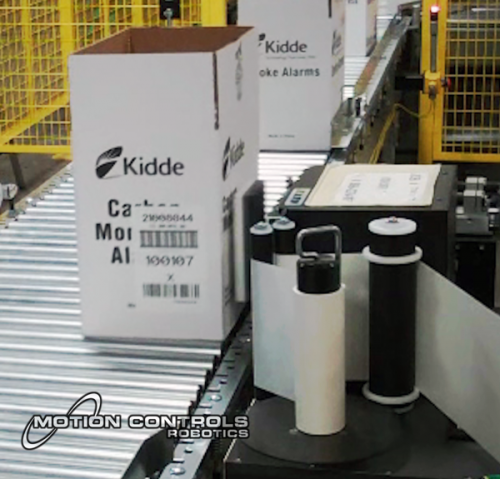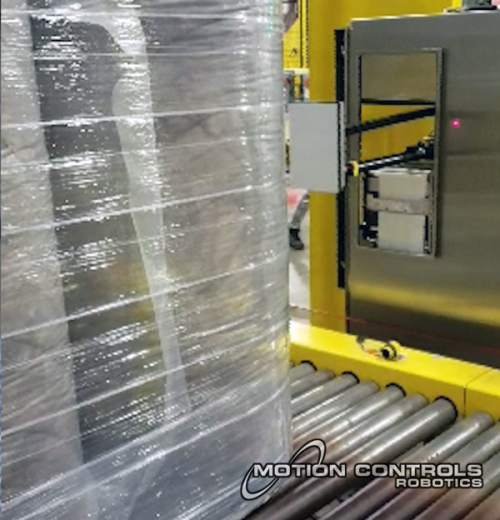 Tech Talk Articles for Automated Label Build & Application
February 3, 2021
When production errors are costing you time, money, and end-customer satisfaction, it might be beneficial…