Labeling - Automated Label Build & Application
Automating the labeling of products is the best way to error proof your end of line labeling process. MCRI's automated labeling solutions can label rolls, cases, pallets, and individual products. Labels can be custom designed by Motion Controls Robotics or can be retrieved from a datastore/database containing label information.
Collaborative Robot Labeling – 5 Benefits
The Motion Controls Robotics' labeling system uses a FANUC CRX collaborative robot to label products quickly and efficiently.

This portable system has the flexibility to apply labels to multiple sides of the case/product-eliminating the need for multiple labelers/operators.

Label scanning after placement confirms barcode is scannable. The operator is notified if any issue is detected.
Adding the ImpactIQ software package to the system allows for labeling applications that require unique labels for tracking and traceability.

Can label a variety of product shapes.
Label Information
MCRI uses a proprietary software called ImpactIQ to develop labels that can pull information from your product database and combine production information to print case/product specific labels.
MCRIs proprietary industrial data handling software, ImpactIQ, is used to generate and print labels on demand. Dynamic label data can be retrieved from any database containing product information as well as tacking and traceability data.
Case/Product Weight – Print the weight of a product in plain text or barcode – Requires an inline scale that weighs product as it passes.
Timestamps – Print production time, expiration date, or any custom date field desired to be printed on a label.
Product Description – Product description can be retrieved directly from your product database and placed on a label.
Case/Lot/Order Number – For order fulfillment, case number can be included. Case numbers can be automatically serialized by ImapctIQ tracking and traceability module- Example case 6 of 50.
Custom labels can be designed to fit almost any application.
Some examples of label customization are:
1D or 2D barcodes
Color Label printing
Automatic label serialization – Uniquely identify each labeled product for tracking and traceability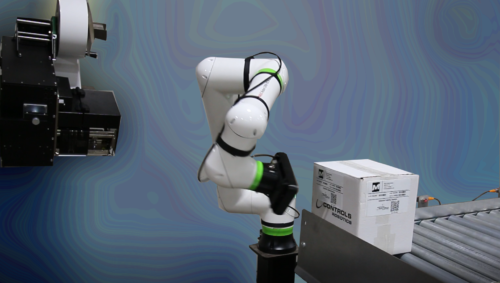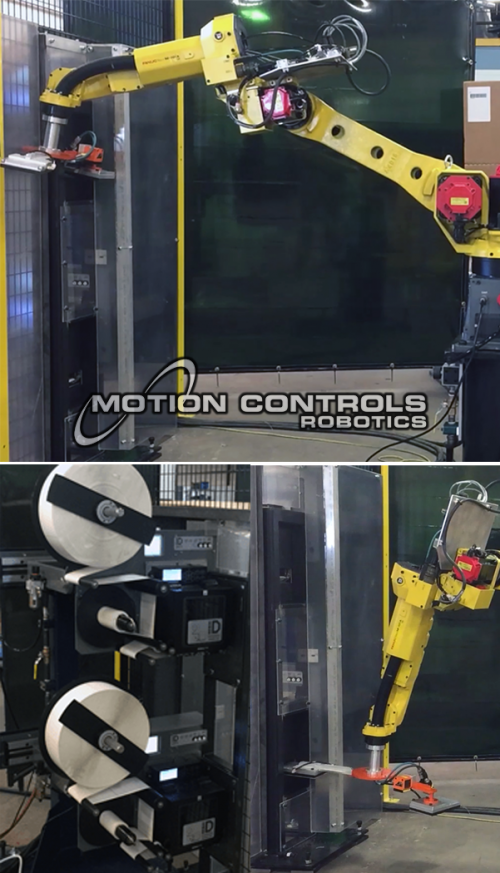 Types of Labeling
Case/Product In-Line Labeling
Label product on a conveying line with one or multiple inline labelers/printers.
Integrate Zebra, Sato, or Datamax industrial print engines.
License plate (LPN) labels can be utilized and scanned for labeling applications requiring unique labels for tracking and traceability.
In-line labeling can be utilized for rolls, cases, pallets, and/or individual products.
Robotic Labeling
Apply labels in complex positions or angles to rolls, cases, pallets, and/or individual products.
Labels can be applied to an inner/outer roll core, or any other location – more about roll labeling >>.
Apply multiple labels to a single side, and/or label adjacent sides of product.
Vision can be used to place labels in a specific or consistent location on a product and can be used to verify proper placement.
High speed robots, such as delta robots, can be added for high-rate applications.
Full Pallet Labeling
Apply pallet labels on opposing sides or every side.
More than (1) label can be applied to the same side at different heights to accommodate end consumer scanning variants.
Stretch wrappers can be added before or after the in-line labeling.
Robots can be used to label pallets and place corner blocks or other pallet features needed before shipping.
Label Verification
Barcode scanners or imagers can be added to inline, robotic, or pallet labeling applications to verify label content.
Label verification identifies print quality and label data problems at the time of print and can notify an operator as soon as a problem is detected.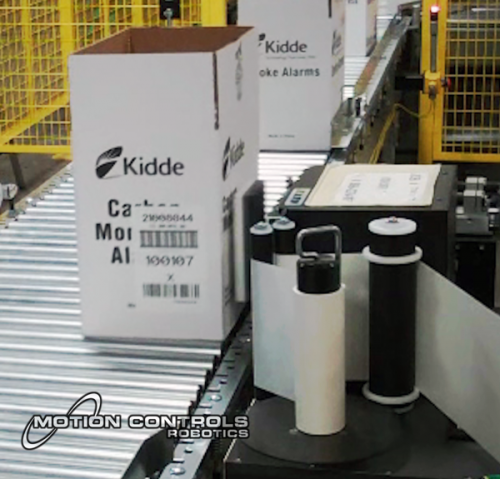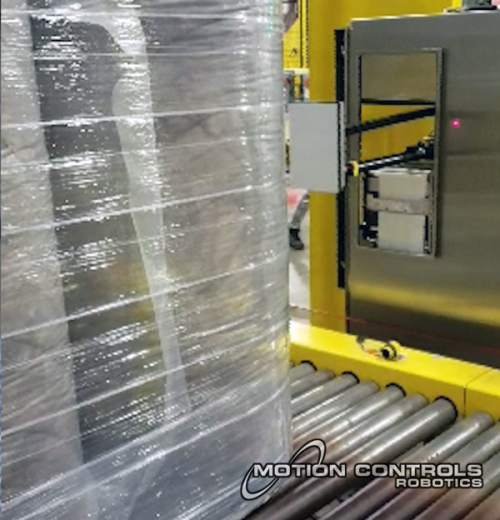 Tech Talk Articles for Automated Label Build & Application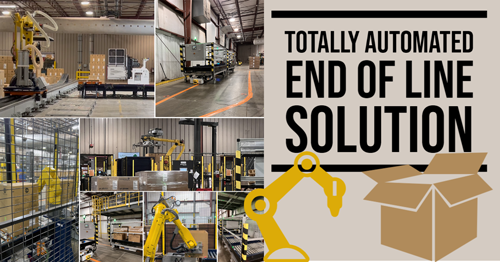 January 9, 2023
We finished a large, automated packaging - end of line integration project last year for…