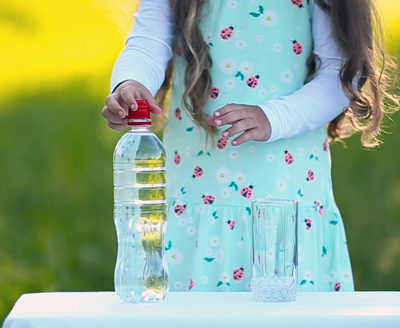 We finished a large, automated packaging – end of line integration project last year for Closure Systems International. This company produces plastic caps for most all the plastic bottles you drink from. The system MCRI integrated focusses on the areas of case erecting, packing, transporting, and palletizing.
---

Customer Results
Met their OEE goal of 97.5 percent efficiency
25 percent increase in cap production
Plans to expand facility and add more robotics
---
Customer's Challenge
Like many companies located in a small town, it is difficult to find employees. CSI's location in Crawfordsville, IN was causing similar issues – they needed to increase production but could not find people to work the shifts.
"Our lines produce 2,200 caps in a minute," explains Floyd Needham, CEO of CSI. "You want them to run 24/7, but if an operator doesn't show up, you may have unplanned downtime."
The other issue was the space. The company needed to increase production using the same footprint. Automation can bring the efficiency needed for maximizing production.
"The challenge was the space and the way we solved this was to reduce the amount of equipment and handle more cases at one time," explains Roger Sorg, MCRI's Regional Sales Manager.
---

MCRI's End of Line Solution for Moving the Caps and Reducing the Footprint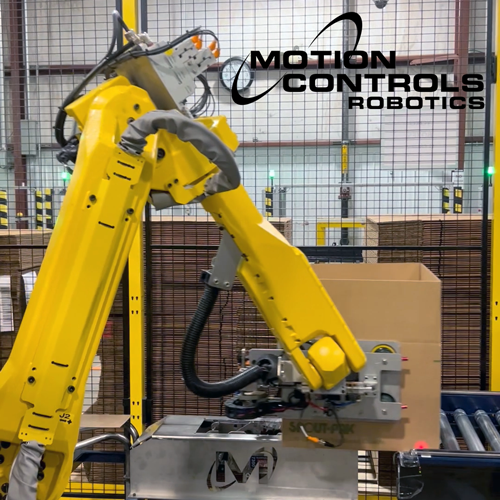 "It was our goal to seek out an integrating partner who would understand our issues and provide us with a turnkey system " says Floyd Needham, President/CEO of CSI.
System Video – Automated Packaging – End of Line Solution
Watch our system video to see the robots and AGVs in action and then go to Sequence of Operations below to read the full explanation. We teamed with FANUC America to document and video this system.

---

Sequence of Operations
---
Cases are erected and bags added using various case erectors.
Caps are formed using plastic mold machines in the manufacturing area of the facility. A call is sent that the caps are ready to be packed. Included in the call is information for tracking the product throughout the entire system. AGVs start their journey when the call is made to pick up erected cases in the case build & bag area.
The AGV picks up 4 empty cases that already contain a plastic bag for holding the caps and moves along the track to the cap filler.
Each case is filled and another AGV is called to pick up the full cases.
The finished cases are taken to the centralized palletizing area and dropped off. As each case moves along the conveyor toward the palletizing area, barcode labels are applied.
Each case runs through the MCRI Robotic Tape inspection station and any passed boxes move on to be palletized while if a box fails it is sent to a quality check area.
The robot on rail picks and scans the full layer of cases and places it on the correct pallet station.
Each of the 34 pallet stations can contain a full stack of cases of caps.
Two Automatic Guided Clamp Truck Vehicles (AGV) pick full pallets and move them to the stretch wrapper.
There is a a FANUC material handling robot that places a pallet at the stretch wrapper and the full pallet is wrapped and moved to shipping.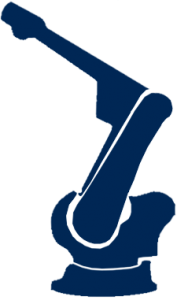 The Robots & AGVs Used for Automated Packaging
We selected 4 different FANUC robot models to perform different application in this automated packing solution. There are 4 FANUC robots, 30 AGVs, and 2 Clamp Vehicles that round out this end of line solution for handling cases of caps.
Models

Payload

Reach

Download Spec Sheet

Floor Mounted
M20iA/35M
35 kg
1831 mm
New Model – Model above has been retired M-20iD-35.pdf
Floor Mounted
LRMate 200iD/4S
4 kg
550 mm
200iD-4S.pdf
Rail Mounted
M410iC/315
315 kg
3140 mm
M-410iC-315
Floor Mounted
M410iB/140H
140 kg
2850 mm
M-410iB-140H.pdf
---
FANUC M20iA/35M
The FANUC M20iA/35M, which has now been retired, was used in the case erector cell. This robotic random case erector saved space by erecting 4 cases in one area. The case cartridge held 4 different case dimensions – the robot would pick and erect the case based on the size that was requested. The cases were erected and sent to an inline labeler and then picked up by an AGV to be bagged and filled with caps.
LRMate 200iD/4S
The LRMate is one of the standard robots for the MCRI Inline Tape Inspection Station. These stations can be added to any current conveyor setup to scan tape ends as the case enters the palletizing area.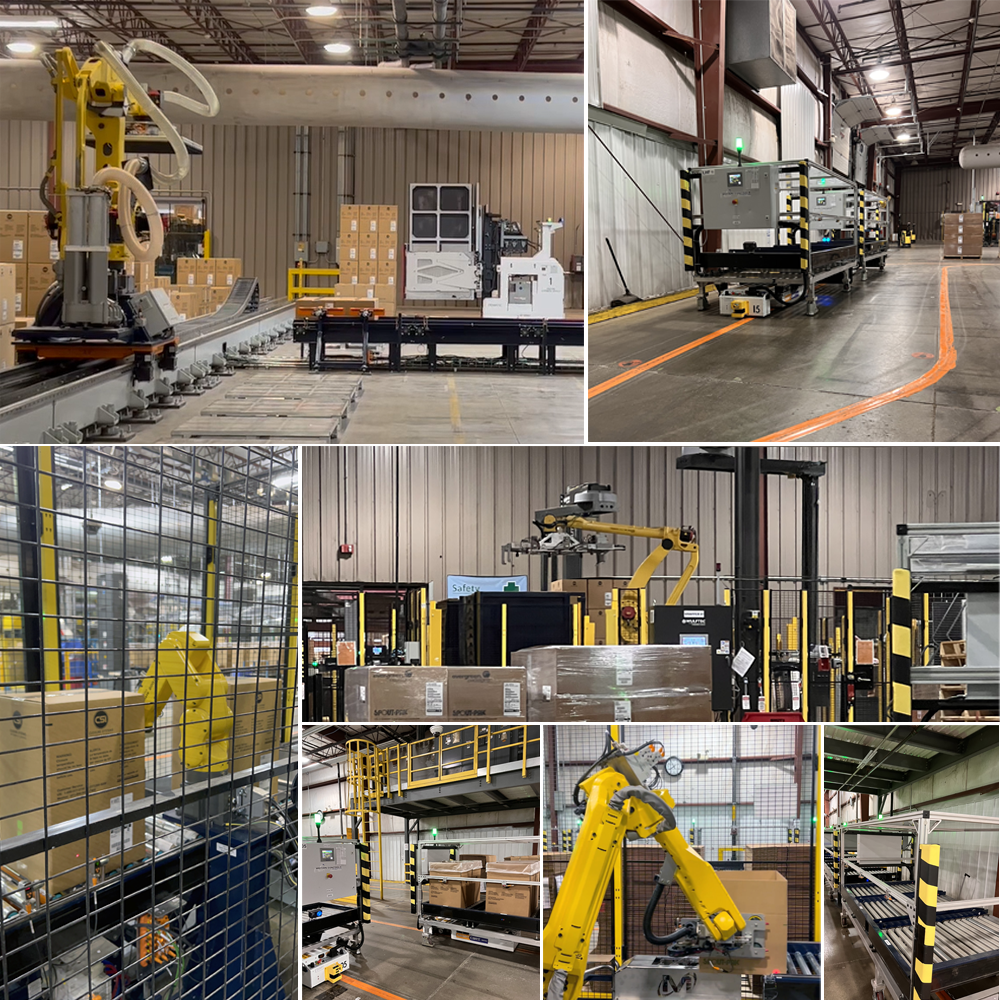 Improperly taped cases can cause unneeded downtime if contents fall out of the case. This is especially import for a case that may contain hundreds of caps.
FANUC M410iC/315
FANUC has the best selection of palletizing robots and their M410 series is specialized for this application. The M410iC/315 was installed on a Gudel Rail that allows for a 7th axis to move to the 34 pallet locations in the centralized palletizing area.
FANUC M410iB/140H
This M410 is a material handling robot installed in the final sequence for the end of line solution. When stacks are brought to the wrapper the M410 places a pallet for the clamp vehicle to place the stack of cases.
Daifuku SmartCart – 100TT Tugger Vehicles (AGV)
The base of the each of the 30 AGVs is a 100TT Tugger from Daifuku SmartCart These have a weight capacity of about two thousand pounds. This allowed MCRI to add a roll conveyor for transferring and picking up cases. The AGVs move around the facility using a path planned for efficient travel and employee movement. The carts move slowly and use area scanners to slow and stop as an object or person moves into the path. As the carts' battery runs low it finds a battery charging station and parks. The rotation of carts running and charging allows for enough carts moving through the facility 24 hours a day.
Dematic Automatic Guided Clamp Truck Vehicle (AGV)
The 2 clamp vehicles pick up full pallet stacks and move them to the stretch wrapper.
✓ Safety Features
Motion Controls Robotics follows the ANSI/RIA R15.08 for robotic Safety Standard designed to ensure employees and robots work safely together. The AGV safety measures are laid out in the ANSIB56 guidelines. We take full advantage of new safety technologies and innovations as they become available.
Main Safety Features
This system is complete with safety fencing and needed safety sensors.
Light curtains prevents operators from entering the robot cells.
---

Customer Results – Complete Automated Packaging End of Line Solution
The customer was able to reach their new production goals. They saw a drastic reduction in downtime and were able to meet their OEE goal of 97.5 percent efficiency. CSI has seen a 25 percent increase in cap production (approximately 30 million units per month). The completion of the project and first 6 month run of the system gave the company the go ahead to expand their operations in Crawfordsville, IN.
"Having the confidence that we can install new capacity and deliver on time in full for our customers is what you need to invest in a United States plant. If not, you might make the decision to invest elsewhere," says Floyd Needham, President/CEO of Closure Systems International. "Having the automation and robotics system does give you a level of confidence that you'll be able to staff that line and deliver a product to your customer on time."