Watch our 1-minute palletizing video to see the variety of palletizing cells we have recently integrated.
What are you Palletizing?
Motion Controls Robotics specializes in palletizing challenges. We can do single cell palletizers in our sleep, but we welcome the challenge of:
Single, multi-pick, and full layer palletizing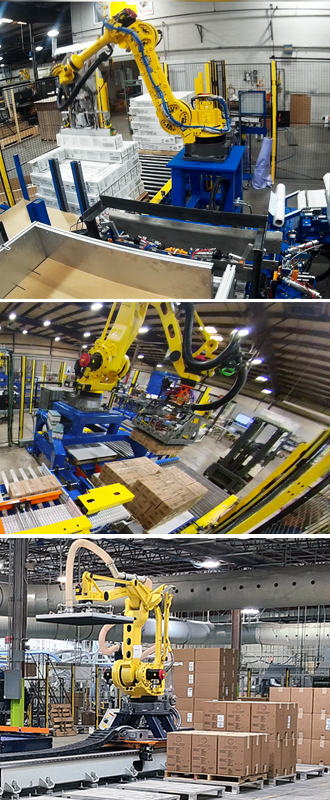 Depending on your product throughput, number of SKUs, and/or delivery needs, there are a variety of options for setting up a palletizing robot cell.
Single Pick
A single case/product pick and place palletizer is a great starter cell for lower rate end of line palletizing. These types of systems are a fast integration project and are designed with a standard end of arm tool. If you are currently manually palletizing, adding this type of robot cell solves labor shortage issues freeing up important employees to do less repetitive work.
Multi-Pick
If your rate calls for faster throughput, row or multi-pick is the next level of palletizer. This uses a larger end of arm tool and picks product that accumulates on the conveyor. This type of palletizer can accommodate multiple SKUs and different case or product size.
Full Layer Pick
Lastly, MCRI specializes in centralized palletizing where all product is sent to one area in the facility and palletized by layer onto the correct palletizing station. Layers are built on the conveyor through programming using the SKU stack pattern or can be sorted and layers built based order fulfillment. Using layer building software allows the customer to create pallet patterns on the fly.
Each pallet of product can be setup to meet a variety of standards for slip sheets, tier sheets, top caps, and corner boards.
Multiple SKUs & Product Tracking Utilizing ImpactIQ Software
End of line palletizing areas with multiple SKUs can be accomplished using layer building techniques and multiple palletizing stations manned by one robot. MCRI uses their ImpactIQ software to track and trace all product throughout the entire system. Read more about ImpactIQ
Roll Handling & Palletizing
Over the years we have developed many applications that deal with roll handling:
Building & Construction Industry – Handling and palletizing rolls of roofing product, insulation, and other paper/rolled product.
Consumer Goods Industry – End of line handling for film, foil, paper, and other rolled products
Converting Industry – Various large roll handling needs and well as end of line solutions for palletizing.
Solve Palletizing Challenges with Collaborative Robot Palletizing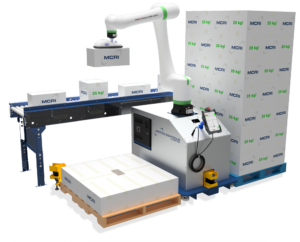 We offer the BA Palletizer. These mobile collaborative cells are an additional end of line palletizer to help with multiple lines without extended downtime or setup costs. This great, portable palletizer will minimize downtime for system cleaning and help with labor shortages. Find out more about the BA Palletizer
Lightweight to Heavy Products
MCRI is an Exclusive, Authorized FANUC Integrator. FANUC robotics offer the widest variety of industrial palletizing robots. This allows MCRI to select the best robot for your specific needs.
---