Do you have multiple lines or stations with low to moderate throughput – requiring significant manual labor? One option is to have a robot added to a rail that can move to each product line or station. If your operations are like many others, robots on rails may be a cost and space saving solution. Adding the rail maximizes the robot's utilization and decreases the inactivity and expense you would see with multiple robots.
Mounting a robot on a rail gives you one more axis of linear movement. This provides added flexibility to move to a new location to accomplish either the same task or a slightly different task in the same process. A rail solves the problem of needing a second robot to accomplish one process.
Benefit of Robots on Rails
Application flexibility using one robot instead of two – robot is being utilized to achieve optimal process efficiency
Use less floorspace because process is organized around one robot
Reduced maintenance
Improved overall efficiency
Application Examples for Robots on Rails
Palletizing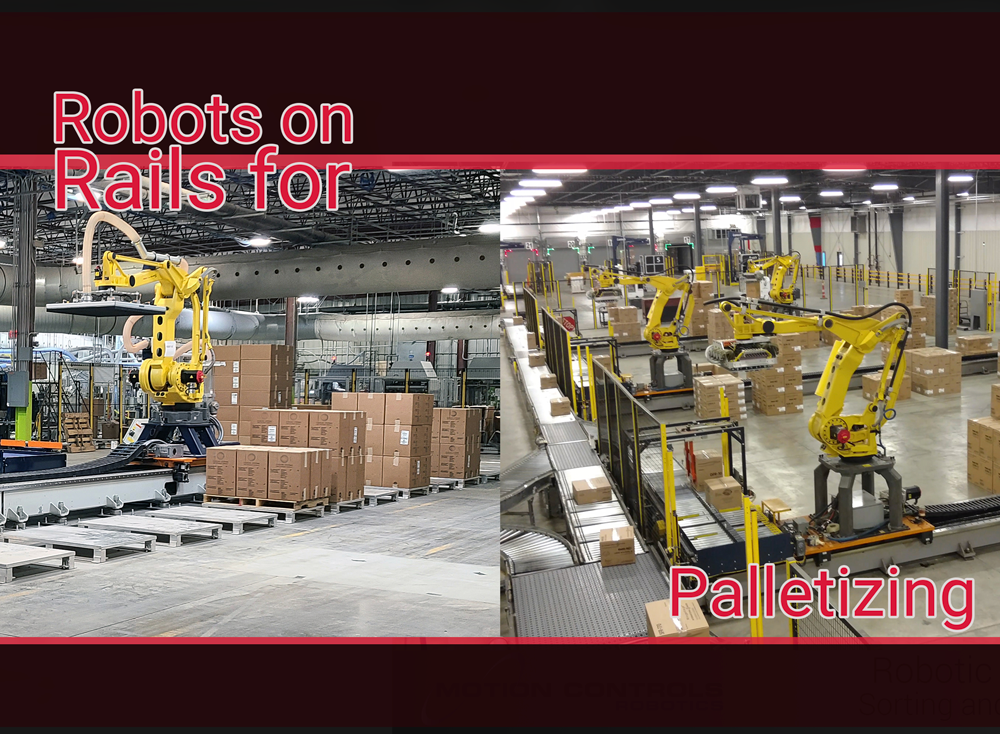 Below you will see two examples of end of line palletizing setups. These customers both had very high SKU counts, but they had different rate and throughput requirements. The system design was based on maximizing efficiency for the different rate requirements.
The difference in the designs was the number of robots needed. One example used seven robots on rails each with 16-18 palletizing stacks and the other used full layer palletizing and one robot palletizing for more than 30 different palletizing locations (SKUs).
The robot can be equipped with end of arm tooling to pick and place new pallets or cases can be stacked directly to a specified location on the floor and a clamp truck can remove stacks and place them on a pallet in another location.
In conclusion, a robot on a rail is ideal for a combination of high SKU count with lower throughput per SKU.
---
Material Handling/Inspection

The robots on rails shown here are the first to look at the product as it enters this robot cell. They move along the racks to approve the product before the FANUC M900iA robots pick and place these for the next step in processing. The robots on rails read each parts RFID tag to make sure it is the proper part. Once approved, the robot gives proper picking information to the M900. For certain parts, adjustments also need to be made by the first robot before parts can be picked properly.
The rail was selected for this application because it was the perfect solution for flexibility. Static automation would not work because the variety of parts to be inspected have different positions both in height and width of part.
---
Machine Tending
In this example we are looking at a part that goes through several iterations during a process. We have three robots on rails tending to three CNC machines. The first robot picks the part and places it in the CNC. It then moves the part to an inspection station. The second robot picks the part from the inspection station and places it in the next CNC for more machining. This is repeated as the third robot places and then removes the finished part from the CNC.
Here the robots do not need to make big moves, so there are three on one rail.
Motion Controls Robotics partners with Gudel rails for these applications. Gudel has a strong performance history and high customer satisfaction. Their rails are made to work with a variety of robots including FANUC.
As with adding any robotic application, sometimes you might not see/know exactly the best way to get started. Therefore, having a robot integrator visit your facility to evaluate your process is a great way to kickstart the process. The integrator can evaluate, using their previous experience, the options for best process performance. Our sales and application engineers know the options available and have worked with a variety of industries and companies to solve problems.
A high percentage of Motion Controls Robotics' customers are repeat customers – either replicating a system design we installed previously or designing and building a new robotic solution.
---