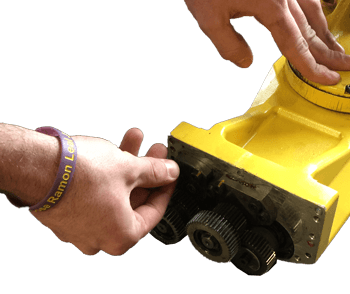 Performing and keeping a proper preventative maintenance schedule extends the life of the robot and keeps the robot cell running efficiently without experiencing unplanned downtime.
Motion Controls Robotics provides innovative robotic solutions from concept to install and 24/7 service and support for complete customer satisfaction. MCRI is a FANUC Level 4 Certified Servicing Integrator authorized to perform warranty repair and maintenance on FANUC robots.
Schedule your PM Today
Here's How
Download our Preventative Maintenance Information form to find out where to start
Gather information and fill-out the downloaded form
Email form to service@motioncontrolsrobotics.com
MCRI will contact you to schedule your PM service
---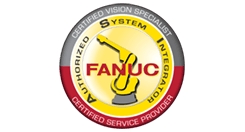 There are only a handful of FANUC Authorized Integrators who have achieved Certified Servicing Status in North America. This status is awarded only to FANUC Robotics' most highly trained Integrators.

Improper robot maintenance can cause damage to your robot and end up costing not only repair cost but also downtime costs. So it is best to use someone, like MCRI, who is authorized and experienced in performing warranty repair on FANUC robots.
MCRI provides preventive maintenance services for routine robot maintenance. All services are performed by Master Certified Engineers/Certified Service Engineers and designed to meet each robot's maintenance specifications.
Robot Preventative Maintenance Features:
Backup of controller memory including teach pendant programs and application software
Monitor/observe the robot in motion noting any cable wear, irregular motion or noises
Replace robot batteries to ensure robot positional data during power loss
Replace controller batteries to prevent loss of software and programming during power loss
Replenish internal grease based on robot model's specifications
Check motor brakes for slippage
Clean controller ventilation and filters to ensure proper heat exchange
Clean and perform visual inspection of robot mechanical unit, end of arm tooling, and cabling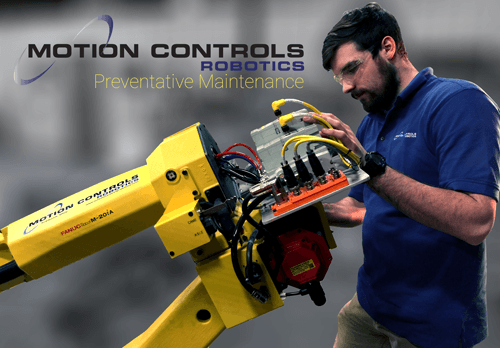 Robot Preventative Maintenance Benefits:
Increased robot longevity and reliability
Identify potential failures before they result in unexpected downtime
Maintenance program can be tailored for each robot
Data to support scheduling future maintenance work
Accurate metering on grease replacement to protect against over pressure and seal damage
Large quantity of spare parts in stock for quick repairs
Always offering 24-hour support coverage