Robotic Part Load/Unload
Machine Tending & Press Tending
Motion Controls Robotics has in-depth experience developing and integrating robotic machine and press tending applications.
Press Tending
Motion Controls Robotics can help you develop a system to automatically unload your presses, take stacks of product from your presses and package the product, or move it to a downstream operation. We work with you to prioritize operations to be automated, develop a strategy to automate as your budget allows, or automate in larger steps in improve your return on investment.
These applications can be used to load and unload:
plastic injection mold machines
blow molding machines
thermal forming machines
brown board die cut presses
printing presses with automatic stacking equipment
Robotic Press Tending Experience
Hydraulic and mechanical presses
Engel
Milacron
Essentra
Thermoplay
Nissei and Aoki machines for bottles
Grimco Presses
Macrodyne Hydraulic Presses
Savage Hydraulic Press
Dake Presses
Nugier Hydraulic Presses
Machine Tending
The loading and unloading of CNC machines is a popular application in robotics. In most cases, these jobs have higher levels of safety risks for employees with repetitive motion injuries or burns from removing parts that are too hot. These systems can work without any team member involvement through a night shift, or over the weekend.
Motion Controls Robotics has developed and installed CNC machine tending systems that feed robots by a conveyor, bin, table, or chest of drawers.
Working with a robotics company in the states to automate the load/unload of the machines eliminates delays and you get a turn key solution with 24/7 support available for any needs.
Robotic Machine Tending Experience
Nissei and Aoki machines for bottles
Kitako-Shimada
Okuma
HAAS
Various other CNCs
HACO hydraulic press brake
Plastic Injection Mold Machine – FANUC R2000 Robot
A vacuum tool on the end of  the robot removes large plastic parts from a plastic injection mold machine.
Typical cycle times for these presses are in the 30 second range, sometimes allowing time for the part removal robot to do additional packaging or case packing operations while the press is cycling.
Plastic Injection Mold Machine – FANUC R2000 Robot
Robot is mounted on top of the fixed platen to free up floor space and simplify operator access for mold changes. The robot is shown with an extension tube to improve reach for large mold cavities and flexibility of part unload operation.
A floor level conveyor (shown) or an elevated conveyor that transports parts at a raised elevation to a decline conveyor outside the press area can be provided with the robot cell.
Room for multiple tools can be provided inside the safety area of the robot for fast automated, semi-automated or manual tool changes.
A simple menu interface for the operator, either on the robot teach pendant or on a separate HMI (human-machine interface) screen, allows for an operator to quickly and easily select what part is being run on the press and which tool to use on the robot.
A key system is available to automatically determine whether the correct end of arm tool is attached to the robot when a part is selected from the menu screen.
Portable Robotic SUBTA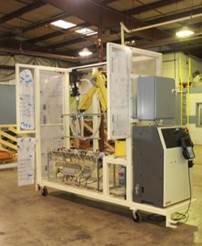 The Stand Up Bottle Take Away(SUBTA) work cell is wheeled up to a press, locked into position, quickly connected to utilities, and directed to unload specific bottles or other product based on operator selection on the HMI screen.
When a press run is complete, the SUBTA can be moved to another injection molding machine while the first one is being changed over to a new product.
Load/Unload Inspection

Motion Controls Robotics designed a load, unload, and inspection system of insert molded components for a company in the automotive industry. This automotive component manufacturer needed to ensure the consistency and reliability of their component as well as the quality inspection process.
The load, unload, and inspection robotic system MCRI designed works together with facility operators to accomplish the goal of testing the quality of an insert molded component before it is sent on in the manufacturing process.
The system MCRI designed to meet the customer's goal involved using 2 LR Mate 200iD robots – one robot stationed at each load and unload area. Both robots are equipped with a custom designed end of arm tool (EOAT) specific to the component and equipped with sensors to ensure component quality.
Blow Molding Press – FANUC R2000 Robot
The robot reaches into the mold cavity
Grabs the part or parts
Removes the part(s)
Signals to the press that the robot arm is clear of the cavity opening
Safety interlocks ensure the press cannot close on the robot arm or tooling. Conveyor is typically used to move parts away from the press. The area where the robot operates is closed in to meet RIA safety specifications.
Benefits of Robotic Load/Unload
Programmable
Built-in operator pendant with stored recipes
Menu selection for patterns
Process adjustments on-the-fly
Stores recipes and allows for easy retrieval
Increased quality
Reduces handling damage and scrap
Improves product consistency and accuracy
Vision to inspect product removed from press
Increased throughput
Unattended production
High reliability and uptime 80,000to 100,000 hours mean time between failures
Labor savings
Reduces worker compensation costs and improves ergonomics
Flexible and precise
Vision system eliminates process variables
Precise, flexible 6-axis servo-controlled system
Quick changeover using quick change tooling and stored recipes