Motion Controls Robotics teams with you to makes sure you get the automation & robotics system you need. The collaborative approach is one of Motion Controls Robotics main strategies for success. We consistently exceed expectations through the combination of our advanced robotics and end of line packaging expertise added to your unique process knowledge. We continue this collaborative process into our Factory Acceptance Test (FAT).
A Factory Acceptance Test is commonly done when new equipment is going to be added to a manufacturing process. This test makes sure the equipment runs as it is supposed to before it is added to a line. This saves on downtime by bringing to light unexpected issues with the equipment.
Our Robot System FAT does a complete run of the entire system on our facility floor. Prior to delivery, your system will go through an extensive collaborative FAT process. Your project team and our engineers and project manager will all be a part of the final run. You can expect your robot system to be validated to designated specs in the areas of speed, rates, capacities, and cycle times.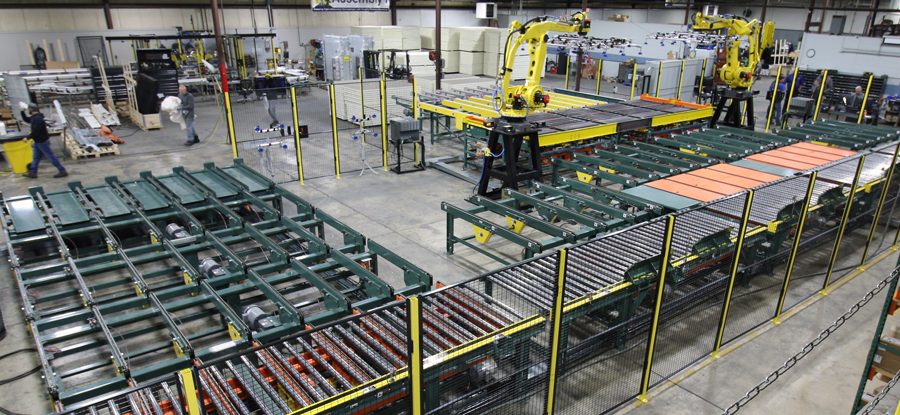 Motion Controls has been a Robotic Integrator of choice for our company for years. In our facility alone, they have perfectly executed 7 automation projects that have helped us become leaner and more efficient. They work very closely with us from the initial concept to the final implementation of the project. When we talk about Robotic automation for new projects, we look no further than Motion Controls. I will give them 5-star rating. – Automotive Industry Customer
Before your Robot System FAT Visit
MCRI uses a three-part debug methodology to ensure the correct operation of the system prior to the acceptance run. Our engineers, project manager, and programmers' capability to run each debug phase in-house ensures the accuracy of your system's equipment, reduces time to production once installed at your facility, and validates specifications.
The first phase (Debug I)
An individual station quality check and process run, which includes verification of alignment, correct wiring, and station sequence, and correct function of the station's intended operation without regard to cycle time.
The second phase (Debug II)
Ensures that all stations can meet cycle time on an individual basis. A minimum of 50 consecutive parts (or other selected number based on system cycle time and part cost) are run on each station without a reject or failure to verify the cycle time and correct operation.
The final debug phase (Debug III)
Verifies entire system performance at cycle rate, including any trafficking, data handling, etc.
Upon completion of the above debug process, we also dry cycle the equipment for four hours to ensure that cables, hoses, etc. are routed to withstand long-term use and that all adjustments are maintained. At this point, the equipment is ready for your acceptance run.
Reliability and user-friendliness are a vital part of supplying the best possible system to our customer. We work with a collaborative team to layout the HMI to make it easy for operators to find information about the system when they need it.
Robot System FAT – Factory Acceptance Test
You will select whether you would like to visit the MCRI facility to observe the runoff or have the runoff done via a recorded Robot System FAT. If you select the video option, we will video the process and send you a link to preview the video (with the MCRI project manager if you prefer).
During your Factory Acceptance Testing (FAT) at MCRI the system run will prove the agreed upon system capabilities and rates.
MCRI Visit or Full Run Video
Before your systems leaves the MCRI facility, speeds, rates, capacities, and cycle times are confirmed.
Your FAT is scheduled in advance.
All acceptance criteria are listed in the System Design Parameters Section of your quote.
Before your FAT, a 3-phase debug is run by the MCRI engineers and programmers.
We run a four (4) hour dry cycle of the equipment to ensure that cables, hoses, etc. are routed to withstand long term use
Site Acceptance Testing (SAT) at Customer Facility
MCRI will duplicate the above FAT test on your floor to achieve the SAT to demonstrate the agreed upon system capabilities and rates once installed at your facility.
---