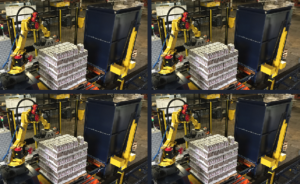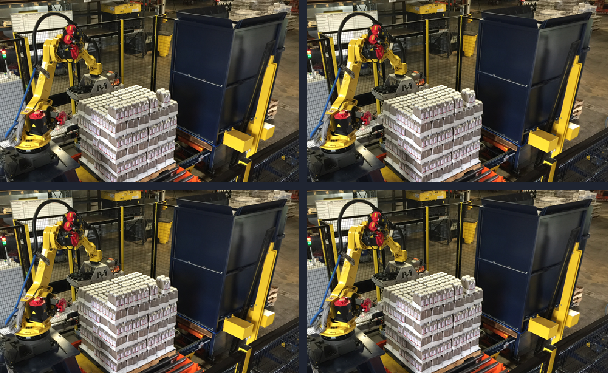 A modular palletizer plan was successfully implemented at a customer's facility which was part of a larger deployment of approximately 13 units over the next 8-10 years. This case study focuses on the challenges faced, the innovative solution employed, and the impressive results achieved.
---

Case Study Customer Results
Reduced labor requirements by 40% – relieving issues
Floor Space Footprint: The system occupied a compact 8'x9′ floor space
Met budgetary requirements
Plans to add more modular palletizers
---
Customer's Challenge
The key advantages of robotic modular palletizing systems are flexibility and scalability all in a compact footprint.
Flexibility in Modular Palletizing
These systems can be easily reconfigured to accommodate different product sizes, shapes, and stacking patterns. The modular aspect comes into play when different EOATs or tools can be quickly swapped out to handle various products without major reprogramming.
Scalability in Modular Palletizing
Scalability means you can continue to add more of the same type palletizer around your plant. Facilities scale their robotic palletizing systems based on their production needs. Additional robots can be added as demand increases, providing a scalable solution for handling different workloads. This gives you consistency and a quick learning curve for the operators.
The customer's facility posed several challenges for modular palletizing operations:
Space Limitations: The available floor space was limited, necessitating an efficient and compact palletizing solution.
Variety of Products: The palletizer needed to handle a range of products, including shrink-wrapped trays, shrink-wrapped trayless items, and regular slotted container (RSC) cases, each with varying pack configurations.
Packaging Variability: The trays came in configurations of 4 and 6 packs, further complicating the palletizing process.
Random Run Times: Production runs varied in duration, demanding a palletizer capable of accommodating random run times.
Quick Changeover: The ability to swiftly transition from palletizing trays to cases was crucial for maintaining production efficiency.
Operator Involvement: The system needed to allow operators to perform their work effectively while maintaining safety.
---

Modular Palletizing Solution
The solution to these challenges was the implementation of the following:
MCRI Modular Palletizer: The MCRI Modular Palletizer was selected for its versatility and scalability.
Single Lane Processing: This system was configured for single-lane processing, handling one SKU at a time.
End-of-Arm Tooling (EoAT): The system utilized an R1000-80H EoAT along with standard MCRI EOATs to handle different packaging types efficiently. While this system didn't need to use more than one EoAT, other systems we installed did use quick changeover tooling. See how this works in the video>>>
Pallet Build: The pallet build was done on a conveyor that would move the pallet out of the system when the stack was done. An MCRI pallet dispenser would then feed in another pallet for the next stack.
Safety Fencing: Robust safety fencing was installed to ensure the protection of operators and the integrity of the system.
Control Panel/Robot Controller Stacked: A stacked control panel and robot controller configuration was employed for ease of use and monitoring.
🎥 Watch a Presentation on Modular Palletizing Solutions done by FANUC's Executive Director – Wes Garrett>>>
---
System Video -Robotic Modular Palletizing- End of Line Solution
Watch our system video to see the modular palletizer then go to Sequence of Operations below to read the full explanation.

---

Sequence of Operations & Product Rates & Cycle Times:

The sequence of operation in modular palletizing is usually straightforward:
Pallet dispenser introduces an empty pallet
Robot picks and places a tier sheet
Next, the robot builds a full stack for the SKU input at the HMI by the operator
Full stack is moved out and the process starts over with a new SKU or more of the same product
---
The modular palletizer demonstrated exceptional performance:
This system accommodates conveyor speeds of up to 100 feet per minute (FPM).
The system efficiently handled 200 bottles per minute on the 16 oz production line.
For 6-packs, it achieved a rate of 34 packs per minute, while for 12-packs, it handled 17 packs per minute.
Floor Space Footprint: The system occupied a compact 8'x9′ floor space.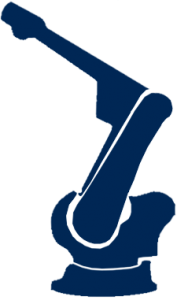 Robot & Pallet Dispenser
For this system we selected the FANUC R-1000iA robot for the weight, reach, and rate we needed. The system also uses a pallet dispenser for quick changeover. Full stacks are moved using the outfeed conveyor and will be picked up by forklift and moved to a new location in the facility. Explore our MCRI Pallet Dispenser
Models

Payload

Reach

Download Spec Sheet

Floor Mounted
R1000-80H
80 kg
2230 mm
R-1000iA-80H.pdf
✓ Safety Features
Safety is a critical aspect of robotic palletizing. To prevent accidents and injuries, these systems are equipped with safety features such as emergency stop buttons, safety scanners, and protective barriers.
Motion Controls Robotics follows the ANSI/RIA R15.08 for robotic Safety Standard designed to ensure employees and robots work safely together. The AGV safety measures are laid out in the ANSIB56 guidelines. We take full advantage of new safety technologies and innovations as they become available.
Main Safety Features
This system is complete with safety fencing and needed safety sensors.
Light curtains prevents operators from entering the robot cells.
---

Customer Results – Robotic Modular Palletizing Solution

The implementation of the modular palletizer yielded impressive results:
Fast Delivery: The solution was delivered within a short timeframe of approximately 2 to 3 months from order placement.
Quick Installation: The installation, startup, and commissioning took only one week, minimizing downtime.
Cost Efficiency: The low-cost solution met budgetary requirements without compromising on performance.
Operator Efficiency: With one operator overseeing 3 to 5 cells and handling pallet swaps, the system significantly reduced labor requirements.
In conclusion, the successful implementation of the modular palletizer addressed the customer's unique challenges, delivering efficiency, cost-effectiveness, and operator-friendly features. The system's rapid deployment, versatility, and impressive performance have positioned it as an asset in the customer's production environment. As they added the other 8 palletizers, they incorporated other value-add modules into systems. One such addition was adding transfer carts as a way to automatically handle full pallets.
Explore Other Value-Add Modules for Robot Systems:
---
Overall, robotic modular palletizing is a versatile and adaptable solution for automating the labor-intensive task of palletizing products or materials. It enhances productivity, reduces errors, and offers a competitive advantage to facilities in logistics and manufacturing.
Some of the other benefits include:
Quick Deploy
Short Delivery Time
Fast Installation
Fast Startup
Extended Warranty
Tech Support & Service
Dashboarding
Contact MCRI to look into starting a modular palletizing program at your facility.