Robotic Roll Labeling
The robotic roll labeling application was developed to meet the need for flexibility in labeling a variety of rolls. Rolls can have different diameters, orientations, or packaging.
End of Arm Tooling
The end of arm tool can collect up to four labels from the printers using an air flow gripper. The vision integration takes placement and barcode scanning errors out of the picture by placing each label in the same location evenly and flat. Labels can be placed in multiple locations on the roll, core or carton. With a quick changeover of under 2 minutes the label pad can apply a different size label.
Barcode Scanner
A Cognex DataMan 150/260 Series Fixed-mount Barcode Reader is attached to the end of arm tool for tracking packages through the system.
Robotic Roll Labeling Video
In the video above the FANUC M10iA robot places labels onto the OD, core ID, and shipping box for rolled film product.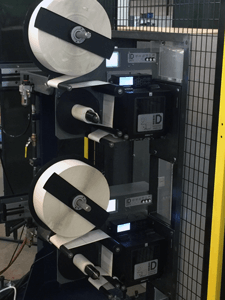 Label printers can be located outside the robot cell to allow easy replacement of printer label stock and print media.