FANUC's six axis M710 robot series consists of six models for medium weight applications that differ based on the reach and load needed. The seventh model is a 5 axis ceiling mounted robot for tight, high speed use. The M710 series offers high joint speeds that help to minimizing cycle time.
The M-710iC robot is designed to handle operations such as:
Packing and palletizing
Assembly
Material handling
Machine load/unload
Part transfer
Case erecting
Bin picking
---
The M710 robot is perfect for dirty or harsh environments because the entire robot has an IP67 (ingress protection) rating. The robot is protected against dust and immersion of liquids between 15 cm and 1 meter.
The M710 series robot has vision support that can be integrated into the manufacturing process using iRVision software with 2D and 3D vision.
Motion Controls Robotics has used the M710 series in numerous robot cells for processes such as packing, machine tending, case erecting and material removal.
---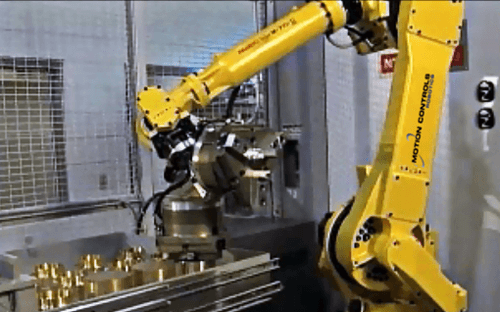 The video below shows an M-710iC being used in a random case erector for taping a variety of box sizes.
Since the boxes can be larger and would be filled upon entering the cell, the robot needs to be able to lift weights that would exceed the specifications of the FANUC M20IA/20 6-AXIS robot included in our standard case erector. The M710iC is FANUC's next higher capacity robot.

If you would like more information about using the M-710iC robot, contact us through our robotic request form.