FANUC robots are designed to be utilized in a variety of manufacturing environments for a variety of applications. So, this standard robot must have Robot Software Options that allow it to work perfectly for the designed application.
While the word "options" can sometimes be thought to mean "optional" – this is not the case with Robot Software Options. The idea can be compared to buying a computer – it would not do much without the software specifically designed to meet certain goals you might have in using the computer.
While there are hundreds of software options that can be selected when you develop a robot system, only the options needed to perform your process will be added to the robot when it is purchased.

Motion Controls Robotics specializes in material handling applications such as:
Palletizing
Case packing
Bin Picking
Machine load/unload
Roll handling
Assembly
Many customers wonder how we select the Robot Software Options that are added to their system quote. So, this article will explain the four required options that allow a FANUC robot to accomplish almost all basic material handling processes.
FANUC has made selecting options more affordable by putting together bundles of options that are commonly used together. When thinking about adding a robot, your main priorities are programming, motion, communication, and safety. And as expected these are the bundles MCRI selects for you system.
Most Commonly Needed Robot Software Options
Material Handling Bundle/Handling Tool
This is standard software that MCRI adds to each quote. This software provides the functionality for setting up, programming, and operating the FANUC robot. The bundle includes:
Programming tools
Teach pendant setup, programming, and diagnostics
Backup/Restore options
Simultaneous processing
Robot Software Options – Motion Package
The Motion Package adds all the motion options that are needed to keep the robot running smoothly:
Collision guard and detection
Constant path for different speeds and starting and stopping
Singularity avoidance
Motion interface for optimizing cycle time, path, life and power usage
Robot Software Options – Advanced or Regular Ethernet/IP Package

The Advanced Ethernet\IP package sets up and simplifies the ability to communicate with a Rockwell PLC, HMI, and iPendant. This package also allows the system to receive important robot information and alarms to display on the HMI. With this software option selected, you can problem solve, operate and/or jog the robot with the HMI.
This bundle includes:
EtherNet/IP Adapter
EtherNet/IP EDA
PC Remote iPendant
HMI Device
Remote iPendant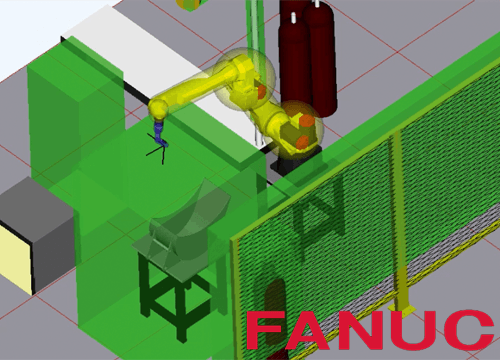 Robot Software Options – Advanced DCS (Dual Check Safety)
This bundle addresses the safety issues and programming needed for adding a robot to an industrial facility. The DCS package monitors the speed and area around the robot for safety issues. By selecting this option, you reduce other equipment costs and the space needed to operate the robot cell. The 4D aspect makes the DCS information easier to read and evaluate.  The items in this bundle include:
DCS Position/Speed Check
DCS Safe I/O Connect
4D Graphics
While the four robot software options above are needed for almost every type of material handling process, MCRI adds additional vision options to about 50% of the robot cells. Vision is added when visual input is needed to programmatically make decisions and move the robot.
In conclusion, you can see why the standard robot needs software options for specializing to a specific application. If you would like to learn more about these software bundles, or any of the many other bundles available for FANUC robots, contact Motion Controls Robotics for a Spec Sheet or email sales@motioncontrolsrobotics.com.