Industry 4.0
Wednesday, June 16, 2021
One Hour Webcast starts at 11am – 12pm EDT
---
Your machines are producing a lot of valuable data, but are you capturing and taking advantage of it?
How many rejects did we have today?
What was our efficiency today?
What was our uptime percentage?
What were our top losses?
These are all common questions you may have when tracking the productivity and efficiency of your system.
Join us to learn about Industry 4.0 and Dashboarding
Dashboarding keeps these valuable insights on how your systems are performing at your fingertips – Allowing you to keep your plant at peak productivity.
---
 Scott Lang 
Founding Partner and President of Motion Controls Robotics with over 30 years implementing intelligent manufacturing solutions using his expertise in manufacturing processes, industrial controls and software development.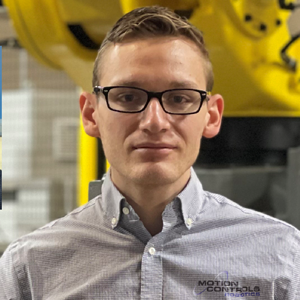 Cameron Downs 
Head Of Software Development at Motion Controls Robotics, Inc. Experienced Software Engineer with a demonstrated history of working in the logistics and supply chain industry.
Safety Devices
Wednesday, July 14, 2021 at 11am
Robot Roundtable
Wednesday, August 11, 2021 at 11am
Robot System Maintenance
Wednesday, September 8, 2021 at 11am