MCRI Webcast Series

End of Line Packaging and Palletizing
Wednesday, May 12, 2021
One Hour Webcast starts at 11am – 12pm est
---
Learn about what is new in End of Line Packaging and Palletizing Automation Solutions.
Programming a total system that works together
Scaras for high-speed sorting and diverting
Barcode based sorting, taping, labeling, and case building
M-Cars for moving finished pallets, cases, or totes
---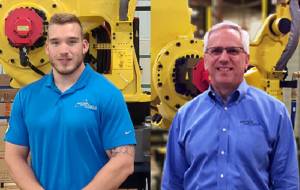 Presented by Earl Raynal & Jared Schatzinger
Earl and Jared work together to design and develop custom End of Line Packaging & Palletizing systems that exceed customers' production needs. They explore new technologies to bring the best options for the project.
Special Guest Josh Holtsberry from FANUC
Josh has been working with companies and system integrators to find current automation needs to make sure the best technologies are available.
Safety Devices
Wednesday, June 9, 2021 at 11am
Flexible Palletizing Systems
Wednesday, July 14, 2021 at 11am
Industry 4.0/Software Department
Wednesday, August 11, 2021 at 11am
Robot System Maintenance
Wednesday, September 8, 2021 at 11am