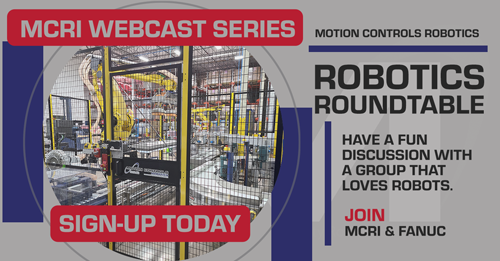 Robotics Roundtable
Wednesday, August 11, 2021 at 11am
Our robotics roundtable will be held on Wednesday, August 11 at 11am EDT. Both attendees and panelist can comment and talk during the roundtable.
Motion Controls Robotics integration discussion topics:
Design: (10 minutes) How Robot Simulations help you judge the overall system requirement.
Build: (15 minutes) What are some of the most innovative or favorite use of robotics you have seen in a facility?
Install: (10-15 minutes) Tips for getting your facility ready for robotic integration and what to expect during install.
Support: (10 minutes) What type of manpower is needed to run a robot system? What kind of training is available?
Bring us your robot questions and comments! Join MCRI for the conversation. You are welcome to join the roundtable or just listen to the webcast.

Panelist Include:
MCRI – Andy Horn, Scott Lang, Jim Skelding, Tim Ellenberger, Douglas Horn, and Julie Beaschler
FANUC – Dick Motley