Pack Expo is coming to Chicago next Sunday (November 6, 2016) for four days. Motion Controls Robotics is proud to be among the many exhibitors sharing their new applications for packaging.
Here are 10 reasons you should take a stroll through the many booths at the show:
You don't want to be left out – Close to 50,000 people will attend the show and learn about new applications in the industry.
Free learning sessions – This year there are 71 Innovation Stage sessions showing the latest processing and packaging technologies.
Cool new robots – FANUC America will be exhibiting their new food grade M20iB performing a picking application.
Collaborative Robots – See all the new collaborative robots -like FANUC's new small robot models. These collaborative robots are perfect for assembly and other pick and place applications.
Free stuff – Over 2000 exhibitors with booths to visit, learn new ideas from, and gather swag.
Get a lot of exercise – Pack Expo is the largest trade show in many ways, but one being that McCormick Place is 1.2 million square feet.
Networking – Pack Expo (Chicago) is a great place to meet-up with customers, suppliers, and other industry professionals to build relationships.
Tons of diversity – This show caters to 24 industry specialties increasing the likelihood that you will learn something to increase efficiency, safety, security, flexibility, quality, reliability, and/or productivity.

MCRI – Motion Controls Robotics will be in booth N-4946 waiting to talk to you about how adding robotics will transform your process.
Great prizes – Motion Controls Robotics has a chance for you to win the new LEGO® MINDSTORMS® EV3 robot set.
After seeing all the great reasons to attend, we know you will want to register right away. Just select the badge below and you will be able to register for free as our guest – this will also enter you 5 times in our drawing for the LEGO® robot set.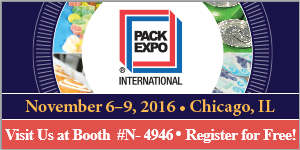 We look forward to seeing you at the show!