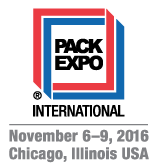 Come visit Motion Controls Robotics at Pack Expo International 2016 in booth N-4946. MCRI will exhibit multiple robotic solutions for automated packaging, case packing, palletizing, and machine tending applications.  We hope you will visit with us to discuss your upcoming automation goals and plans.
Pack Expo had a record breaking year in Las Vegas in 2015 with over 2000 exhibitors and 29,000+ attendees, on a larger than ever show floor of nearly 850,000 square feet.  We expect similar record breaking attendance and show floor space in Chicago this year.  According to the National Association of Manufacturers, U.S. manufacturers will face a skilled worker shortfall of 2 million in the next 10 years.  Companies regularly report to MCRI their issues finding workers for specific jobs in manufacturing and warehousing.  Attendees at Pack Expo will be treated to a diverse range of automation solutions within the packaging industry designed to address the coming worker shortage, as well as improve product quality, improve product traceability, and improve their company's bottom line.

Motion Controls Robotics will be in the thick of things in the Upper North Hall in booth N- 4946.
Stop by to spot the Know Nos of Case Packing and Palletizing
Know reliability with FANUC robots that achieve 100,000 hours mean time between failures and MCRI's 24/7 support coverage
No wondering whether you are going to hit your daily/weekly/monthly production targets
Know product tracking with integrated barcode scanning and case counting
No packaging or product damage – robots help to eliminate damage
Know where cost reductions and future production increases are going to come from
No more repetitive motion or lifting injuries
Know flexibility with a robotic solution that fits your needs
Customer invite to Pack Expo
For all of our special customers, we invite you to walk the show on us! Visit Pack Expo 2016 at McCormick Place in downtown Chicago, IL as MCRI's Guest (Use this link to obtain your free show pass). Then come visit booth N-4946 and walk the show to see all the new technologies in the packaging industry.
All customers that use our Pack Expo registration code will be specially entered 5x in a drawing to win this year's MCRI giveaway – a LEGO® MINDSTORMS® EV3 set.
If you have a specific project you would like to discuss, we will reserve a discussion time with an MCRI specialist for your robotics needs.  Send us an email request at sales@motioncontrolsrobotics.com. We will schedule a 15 – 30 minute one-on-one discussion in our booth N-4946.
Pack Expo Schedule
The following are the days and times we will presenting at Pack Expo in BOOTH N-4946.
Sunday, November 6:           9 am – 5 pm
Monday, November 7:          9 am – 5 pm
Tuesday, November 8:          9 am – 5 pm
Wednesday, November 9:    9 am – 3 pm