Robot System Cost Series
---
Part One: 10 Parameters
Part Two: The Range of Robot Cost
Part Three: A Cost Analysis of a Palletizing System
---
Often companies need an estimate to gauge how much a robot cell might cost (robot cost is just a percentage of the total cost). This knowledge helps gauge the possibility of moving forward with a project. It is not worth spending a lot of time exploring the needs and budget if you know up front the cost will be too high.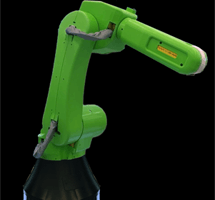 In the Tech Talk article Should You Purchase a Used Robot?, we breakdown, into percentages, the cost of each area of a robot cell. We showed the total cost of the robot in the robot cell averages out to be 25%.
Each FANUC robot has a base price but this price can vary. Some example are:
Robot cost varies with the size of the robot and its attendant servo motors and controllers.
Collaborative robots have many added features that make this a more expensive option
Food grade robots and special environment robots have higher Ingress Protection (IP) ratings to protect them from environmental elements
Robot Cost
List prices for FANUC's most common robots vary from $25,000 for the simplest, least expensive M1iA, 4 axis "spider" robot with .5kg capacity to the M2000/1200 6 axis robot with 1200kg capacity topping out at over $400,000 list price.
Determine which robot you will need based on the reach and payload needed for the robot cell  – robot reach and payload is available by searching through our NEW FANUC ROBOTS product pages. (Costs below are averages for the size and series options and not exact pricing)

Small (Small Delta robot, and LR Mate Series robots)

$25,000 to35,000 for payloads up to 7kg and reach up to .9 meters

Medium (Medium and large Delta robots, M10 and M20 Series robots)

$50,000 for payloads from 7+kg to 20kg and robot reach up to 1.8 meters

Large (M410 Series robots/M710 and R1000 Series robots)

$75,000 to $80,000 for most palletizing operations (M410 Series robots)
$70,000 to $85,000 for payloads from 20+kg to 80kg, and robot reach up to 2.23 meters

Other Large (R2000, and M900 Series robots)

$90,000 to $130,000 for large 6 axis robot projects with up to 360 kg payload and/or reach up to 2.65 meters

Heavy Duty (Includes the M2000 series)

For payload capacity and reaches beyond 360kg and 2.65 meters, prices change quickly ranging from $150,000 to $400,000
1Payload doesn't include weight of end of arm tool, which is usually roughly equal to the weight of the product being handled
After researching robot needs, if you would like more information about integrating a robotic system into your facility contact Motion Controls Robotics using our robotics contact form.