Motion Controls Robotics offers FANUC's Robot Maintenance Package as the best way to perform predicative robot maintenance. With predictive maintenance, you can accomplish zero unscheduled downtime in your robotic system and increase productivity. This package monitors the system and robot(s) status and develops reports the user can download or read on an iPendant, work computer or mobile device.
Below is a list of services included in the Robot Maintenance Package (most software can also be purchased separately):
This diagnostic feature keeps track of and sends reminders for all programmed maintenance events (including customized third party equipment) in the robot system. Maintenance reminders/schedules can help to increase system efficiency and robot life. Managers can keep track of this information using the iRConnect App from FANUC (Requires R-30iB v8.20 or higher):

Download the App perfect for keeping up with robot maintenance-
Android – https://play.google.com/store/apps/details?id=com.fanuc.irconnect&hl=en
Apple/iTunes – https://itunes.apple.com/us/app/irconnect/id593200054?mt=8
This Maintenance Package option includes several components: Motion Profiler, Reducer Condition Detection, Servo Diagnosis, and Flight Data Recorder. These components help to improve robot life by analyzing and alarming excessive loading.  The user sees all essential information about each axis and servo. As new products are added into the system, iRDiagnostics can perform a system check to make sure best practices for the robot are still being used.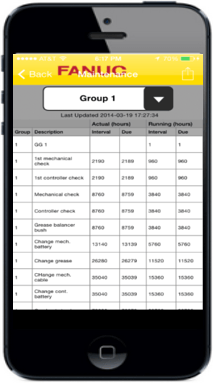 This part of the Maintenance Package tracks all the data from the process like production numbers and cycle times. As a result, the user can set customized alarms when process limits are (are not) reached.  The user can access the graphical interface of the Process Logger from the iPendant. Process Logger can also be setup to collect data from third party equipment.
Fault & Incident Reporting
This error recovery option displays the top 5 most repeated faults/errors. This allows the user to isolate and address these issues quickly. Faults can be sorted by occurrence or length of time system was in fault state. In addition, the user can download a log of incidents for further discovery.
This programming option displays and records reports for operations, alarms, I/O events and program execution steps. This tool is helpful in debugging, discovering trends and analyzing system efficiency. The user can download this data to a .txt file.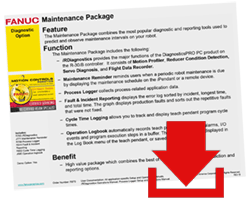 This component tracks cycle times from the start to end of the teach pendant program. Best of all, the user can download data to MS Excel for developing charts and finding trends to increase productivity in the robotic system.
We offer a 3-month demo option of the Maintenance Package. With this demo, you will get first-hand experience of all the benefits of having close contact with maintenance needs, production data, and recorded alarms. Contact MCRI for more information.