FANUC offers a variety of ARC Mate robots specifically designed for precise, high speed cutting and automated welding. Automating welding increases weld quality and throughput while decreasing manufacturing costs. All FANUC ARC Mate robots are servo driven, six axis robots.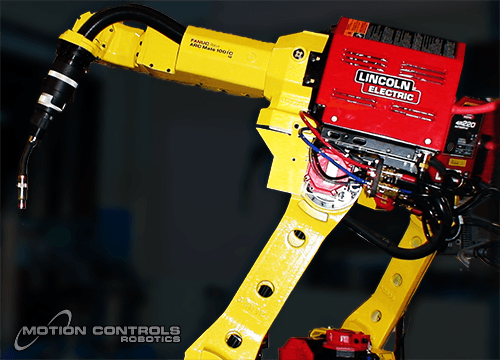 This allows one robot to work with multiple workstations and positions (even inverted). The compact nature of the robot allows it to reach quickly into tight spaces while maintaining a wide reach and motion range.
The FANUC ARC Mate is run using welders from Lincoln Electric. The robots' design reduces torch cable wear and minimizes wire feeder issues. Also using a robot to run the welders makes for a safer workplace and decreases worry of injury.
Robot and Automated Welding Specs
Payload – 3 kg to 20 kg (6.6 pounds to 44 pounds)
*ARC Mate 0iB is a lightweight option that is also low cost. It is perfect for small parts and parts that need a delicate touch.
Reach – options from 911 mm all the way up to 2009 mm (3 feet – 6.6 feet)
Mounting options – Floor, Angle, Wall, or Ceiling
Torch Options – Supports a wide variety of welding torches
This video is a demonstration of arc welding tooling and robot capabilities.
The ARC Mate robots are controlled by ArcTool software and adding the optional iRVision TorchMate allows for 2D and 3D inspection capabilities. iRVision TorchMate supplies a camera that views the welding torch to reduce mistakes and increase uptime. The iRVision TorchMate can be used with multiple robots in one workspace. The ARC Mate robots can also use collision detection for these tighter spaces where coordinating movements are needed.
If you would like to learn more about FANUC's ARC Mate robots, download one of the tech sheet below or contact Motion Controls Robotics through our online contact form.