Have you had customer complaints about shipping partially filled cases of product?  Do you currently have one or more operators doing QC checking of cases to ensure you are shipping full cases of product to your customer?  Traditional full case testing consists of using a weigh scale to test case weight.  In some instances, a weigh scale may not be practical or feasible.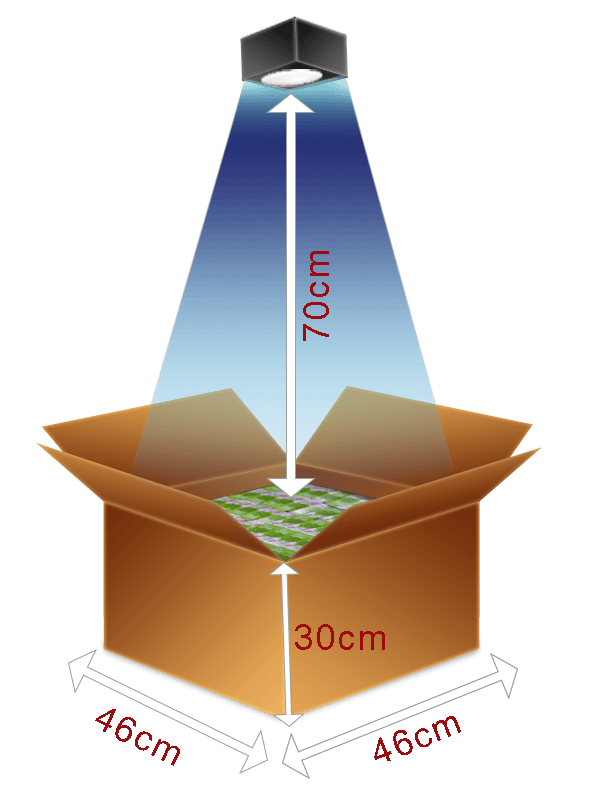 Motion Controls Robotics has case packing technology available for testing whether or not your cases are full, without using a weigh scale.
MCRI uses a vision technology to check cases to make sure cases are filled properly. The sensor can check for missing product (under filled cases) as well as over filled cases.
There are a number of companies manufacturing displacement and imaging sensors that can be integrated into robotic cells or other automated case filling systems. These sensors come with software for custom setups and easy product changeovers, unlike weigh scale systems which are more commonly found on filling lines with a single product type.
For the sensor shown here, to detect case completeness, the design engineer sets up the case dimensions and enters the height of the sensor from the top of the filled case. It is important to know the mounting space available for the sensor and how far it will be from the top of the product height in the case. This sensor is capable of reading at a distance of 70 + cm from the top of the completed case to the sensor.
Cases are simple to check if they are stationary, but with trigger source setup moving boxes can also be checked inline. The images below show a case being checked and test performed to say whether the case passed inspection.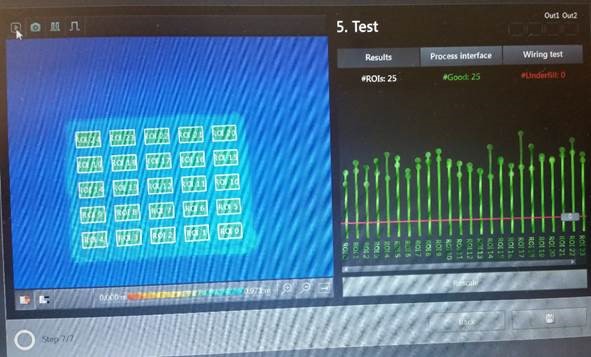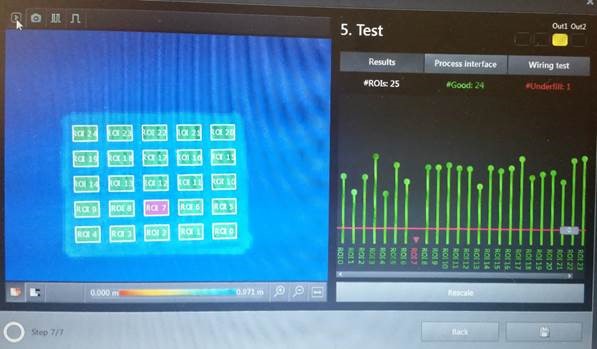 Motion Controls Robotics specializes in robotic case packing offering custom technologies to eliminate errors and improve process efficiency and quality. Learn more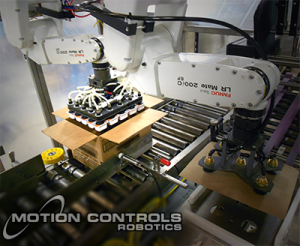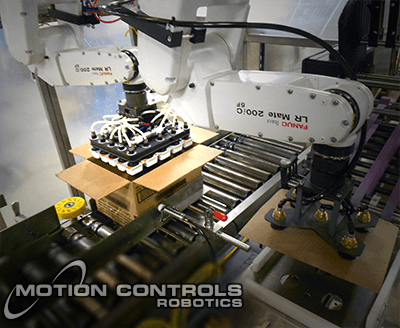 Advantages to adding a Case Completion Sensor
Easy and quick setup, and communicates over Ethernet IP
Ability to switch to different configurations automatically when running various case sizes and products
Under $1350.00 w/cables and software, plus mounting and integration time
Detects over and under filled cases
Case Packing Technology -evaluate before selecting a Case Completion Sensor
Minimum/Maximum mounting distances
Trigger time – time available to evaluate the case
Case size
Clear area above the conveyor
Sensor best mounted inside the cell or outside the cell on the exit conveyor?
What happens if there is a case completion failure?

cell shutdown
indicator lights
reject conveyor/push-off to quality inspection area
If you have had problems shipping partial cases from your case packing system contact a Motion Controls Robotics to determine feasibility of using this technology to end partial case shipments.