In the robotic industry, collaborative robots are all the rage. Collaborative robots allow an operator and a robot to work side-by-side without safety fencing.
To allow for this collaboration:
Hand Guidance device is added between the robot arm and the end of arm tool. Shown here (red button)

robot speeds are limited
a protective stop is added through power and force monitoring
there is visual distinction from other robots (for FANUC the robots are painted green)
sharp areas and pinch points are removed
hard stops are replaced with safety-rated monitored stops
* The safety standards these robots/robot integrators need to follow are defined in ISO 10218-1 and ISO 10218-2
FANUC's Collaborative Robot Options
Over the last few years, FANUC has brought 4 collaborative robot models on to the manufacturing scene. The goal of adding these robots to their current line-up was to help solve the ergonomic issues manufactures were facing with heavy lifting, repetitive motion injuries. For example, a collaborative robot could now lift a heavy work-piece for the human and set it in place for them to finish assembly.

CR-35iA – First of its kind to be able to lift up to 35kg (77 pounds) and work alongside humans without safety fencing.
CR-4iA – Modeled after the LRMate robot, this smaller payload option (4kg/9lbs) is perfect for tabletop applications for assembly or part handling.
CR-7iA – This 7kg/15lbs model, also based on the popular LRMate, allows for more flexibility in installation options. Developed for use in applications with lighter part lifting, part sorting, and assembly.
CR-7iAL – This is the long arm version for extended reach capability giving the customer the perfect robot for their application.
Hand Guidance
In addition to the new collaborative robot models, FANUC also added the option for Hand Guidance. Hand Guidance allows the operator to safely control and guide the robot arm and tooling. In the past, robot movement was usually directed using the teach pendant.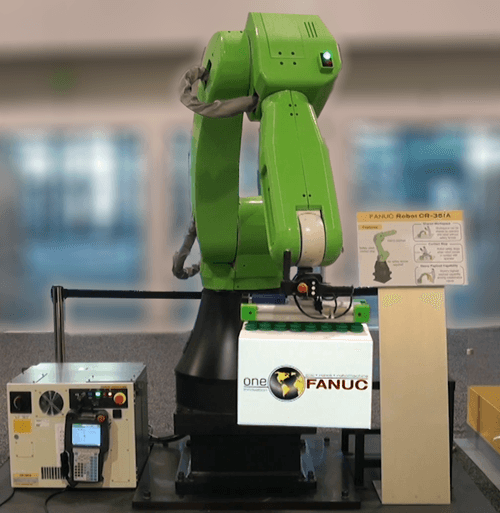 Now an operator can use this Hand Guidance system to:
Jog or move the robot
Teach the robot points on a path
Teach the robot a specific path to take
The Hand Guidance device uses the FANUC force sensor FS15iA.  While in hand guiding mode, the robot only moves as a response to the force from the operator. To add this hand guiding option FANUC followed the ISO 10218-1 5.10.3 standards.
This required
Emergency stop is the enabling device
Speed is monitored and a stop issued if the robot movement exceeded rated speed (200 mm/sec)
Once the robot is trained or moved, it will return to being a force and power limited robot and will stop upon contact with the operator.