Have you ever wanted to learn all about FANUC robots, get a close-up look at different robot models, and explore a variety of robot systems? FANUC recently opened a 320,000 square feet facility called Centerpointe Technology Center in Pontiac, Michigan.
This facility is the perfect place to take a robot tour and learn all the ways FANUC robots can transform your manufacturing process.
More Robots in Stock
This warehouse area will shrink the lead time for integrators to get a FANUC robot in-house to start developing a customer's project. Some pipeline robots will be available in as little as 2-3 weeks. When in full swing, the center will house a total of 2500 robots, increasing their current inventory by 107%. This inventory will consist of a variety of models (reach/payload) for each robot series.
Application Testing
Centerpointe Technology Center also has special robot and end of arm tooling testing spots. These areas allow a manufacturer to test an application for efficiency and speed. The robot will repeat a specific process with a load on the end of arm tool and analyze the results over a given number of cycles.
The Part Warehouse at Centerpointe Technology Center
Just under half of the facility is dedicated to a logistics area. The logistics area has floor to ceiling shelving to store replacement parts. These replacement parts speed delivery to customers – bringing the FANUC Service First promise to the forefront of their priority for customer service and reliability.
The shelving in the warehouse area is color-coded and all parts and shelving locations are kept in a global parts database. Conveniently located near the parts storage area is a group of stations/workcenters for part and robot refurbishing. This area also helps FANUC keep customers' robots reliable and durable for the life of the robot.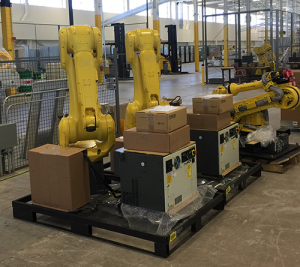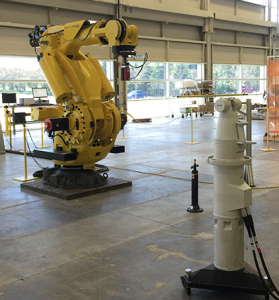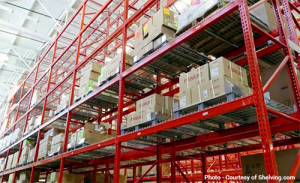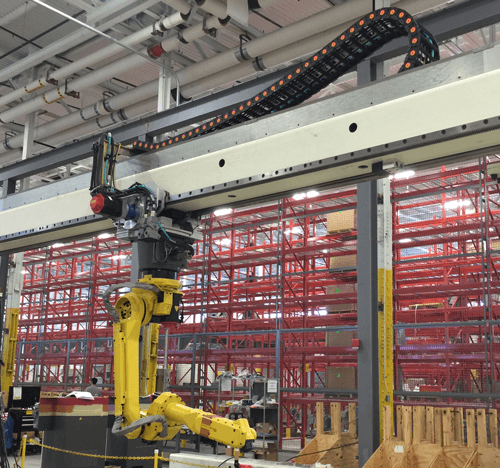 This facility joins the other 25 FANUC sales and service locations in the Americas – adding one more reason to select FANUC robots for your application. If you are a manufacturer wanting to learn more and have interest in taking a tour of Centerpointe Technology Center, contact us using our
robotics request form
. We will work with you to find a time to visit the facility to learn more about how FANUC robots can transform your process.
See a robot on rails either on the ground or overhead