FANUC Integrators, like Motion Controls Robotics, believe strongly in FANUC robots. When deciding on a robot company to use in your facility, it is extremely important to look at more than just price. MCRI knew that the reliability of more than 100,000 hours mean time between failures and the diverse selection of world class robots would give our customers the best solution for their robotic applications.
FANUC and MCRI also promise anyone who purchases a robot – we put "Service First." This is not just a tag line for marketing – there is a plan behind this statement that focuses on each touchpoint a customer worries about after integrating a robotic cell; service/maintenance, spare parts, training, life time support, and most of all speed and reliability of delivery.
What does Service First mean to FANUC Integrators and Customers?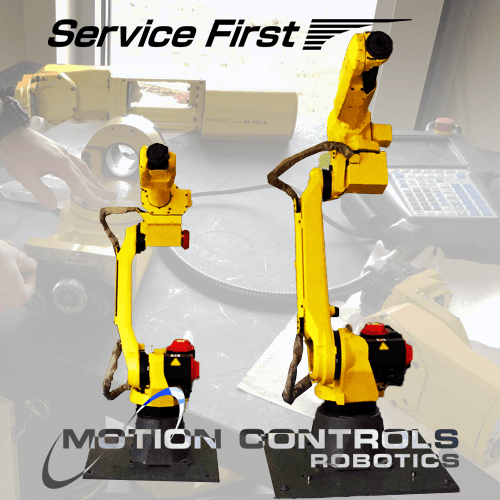 Robot Service/Maintenance
 Preventive, predictive, and corrective service – all available from MCRI by technicians who are FANUC trained and certified
24/7 manned call-in for technical support offered both through FANUC and Motion Controls Robotics
12-month OEM warranty on repairs with personalized service programs, special maintenance contracts and extended warranties available
Robot Spare Parts
Original, high quality FANUC parts for the life of your robot
Large availability of parts in stock with online ordering options
A distribution network that offers 24/7-part shipment
"Each part. When you need it. Where you need it."
Robot Training
Onsite training or ability to attend one of the many training centers throughout the US – includes targeted training at Motion Controls Robotics for your application needs
Learn about or keep up to date on the latest FANUC technologies in vision, simulation/setup, and safety software
Lifetime Support for the Robot
As FANUC integrators, Motion Controls Robotics supports this dedication by being a Level 4 FANUC Certified Servicing Integrator offering 24/7 service and support as well as FANUC authorized PM and service.
Support and parts for your robot are available throughout the life of the robot from your selected FANUC Integrator, Motion Controls Robotics, Inc.
Refurbishing and repurposing for extended robot life and/or continued use can be done by Motion Controls Robotics
Speed of Delivery
24/7 – Fast and reliable to maximize productivity and minimize downtime
FANUC recently expanded their operations in America as a continued commitment to the "Service First" promise. Rick Schneider, FANUC America's President and CEO, explained in a recent press release,
"With 25 sales and service locations in the Americas, and a total of 250 service locations in 46 countries worldwide, we're positioned in close proximity to our customers all over the world,"
As part of being a FANUC integrator, we have special discounts on Robot PMs – Download the
Preventative Maintenance Information Form
then email to sales@motioncontrolsrobotics.com.