Flexible packaging's popularity is growing every day because of new innovations in converting, printing, and designing. The appeal of flexible packaging is simple – sustainability through less material resulting in lighter, tougher and easier to brand and label packages.
Robotic case packing and robotic palletizing of flexible packaging are growing every day as well. It is the most efficient way to meet end-of-line demands for a variety of SKUs, shapes, and sizes. Motion Controls Robotics designs automation solutions for robotic case packing of flexible pouches, stand-up pouches, bags, and other wraps made out of plastic film, paper, or foils.
Motion Controls Robotics provides three main types of robotic flexible packaging systems to meet the changing demands of manufacturers.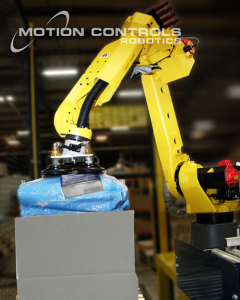 Portability is one of the great advantages of pick and place robotic case packers. This case packing cell can be moved to the end of different product conveyors servicing whatever product needs to be run. These robots are equipped with multiple or customized end-of-arm tools that can pick a variety of products and, using new FANUC iR vision technologies, track product lots and product serial codes. These cases can also be sorted and palletized further down the process using iRVision and end-of-arm tooling that can handle a variety of case sizes and pallet patterns to place the case.
All-in-One Systems for Flexible Packaging
Motion Controls Robotics can also design a robot cell to be a complete end-of-line-solution. This cell starts by erecting a case that is placed on a conveyor. The robot then picks the product and packs the case from an infeed conveyor. The case is taped as it is sent around to the other side of the cell where the same robot then palletizes the cases. This system is the perfect solution for low to medium throughput pick-pack-palletize operations. For additional flexibility, the robot can be made to erect and palletize different case sizes.
Robotic Case Packing
Robotic Case Packing is a robotic case packing cell that offers the flexibility of using either
ergonomic hand packing or automatic robotic pick and place case packing. 
Flexible Packaging Conclusion
Flexibility is the link to providing what your customers want and what is most efficient to manufacture and deliver. Robotic systems provide a flexibility that other automation solutions are unable to deliver. In today's manufacturing environment, change is a must to remain competitive; successful manufacturers are using robotic packaging systems to meet this challenge with greater flexibility, higher reliability and lower cost.
If you would like to learn more about how flexible automation can be an end-of-line-solution for your flexible packaging operation, fill out our robotics information request form or give our sales team a call at (419) 334-5886.