FANUC Robot Parts
Having spare parts on hand can take up a lot of room in your facility and is a big upfront cost.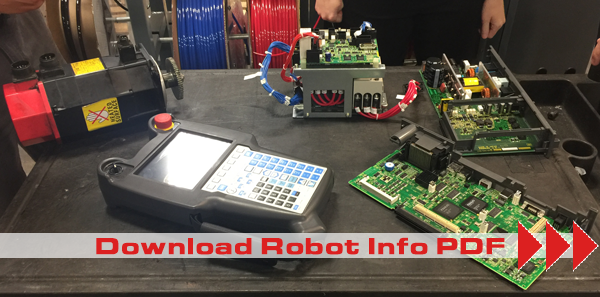 MCRI's experience can help you decide which FANUC robot parts are the most critical to have on hand to keep your unplanned downtime to a minimum.
As you might have noticed from our site, Motion Controls Robotics is a Level 4 Certified Servicing Integrator for FANUC robotics. This means we provide robot parts and services at a discounted rate over going direct to FANUC.
Why have Spare Parts on Hand?
The biggest reason is – downtime costs you money for every hour you are not operating. The exact amount is different for each application, but you probably know the cost to your facility per hour.
If you have the recommended spare part on hand, you can contact MCRI for troubleshooting and we can walk you through replacement to get you back up and running. Or in some cases, your maintenance team can use the robot maintenance manual to find instructions for installation.


If the part is not at your facility, you will probably still get the part within 24 hours – especially if FANUC has the part in stock. But issues can arise, and this method requires more steps and allows for more opportunities for mistakes and possible delays.
FANUC Robot Parts
Each robot has an F-number to make it easy to get all the information about that specific robot and it also gives you a spare parts list. We can get this spare part list for your robot and send you a new list showing only the most critical parts to keep on hand at your facility. We would base our list on your robot's process and experience with servicing FANUC robots in the past.
Types of Spare Parts
FANUC robot's spare part list contains a complete list of robot parts, but not all of them are commonly needed or critical.
General Spare Parts – These are parts that are less likely to see a lot of wear and do not need to be replaced often. It is usually not necessary to purchase these and have on hand at your location, but if your process is mission-critical you may still deem it necessary.


*Consumable Spare Parts – Consumable parts include items like batteries and grease. These are extremely affordable and should be kept on hand because they will need to be changed at regular intervals.
*Critical/Maintenance Spare Parts – Parts that are critical are ones that get more wear and tear, and failure of these parts will mean the robot will go down. Having these parts on hand will get you back up and running quickly (The most common critical part we sell is robot fuse kits).
Typical Repair Part – If your robot is older or you need to have a general repair or overhaul these are the parts that might need to be replaced. But keeping these on hand is not necessary for general maintenance.
If you would like to discuss which spare parts are best to have on hand for your robot system, our maintenance team is here for you. Take a look at the variety of FANUC Robot models.