Improved Fulfillment Processes- Warehouses, Micro-Fulfillment Centers, Inbound Warehousing, Outbound Distribution, Grocery Fulfillment, Packaging Plants, and e-commerce Fulfillment centers are part of a growing demand for moving product from point of manufacturing to the end customer.
Implementing robotics and automation in any area of logistics can improve your ROI, response time to customers, and can help you to train and dedicate staff to better paying jobs focused on improving overall customer service.


MCRI can ease your challenge of labor turnover and costly order errors with an automated fulfillment process that brings efficiency, flexibility, and scalability to your facility.
MCRI is a leading North American integrator of robotic fulfillment solutions, and an exclusive Level 4 Certified Servicing FANUC integrator. FANUC is the world's leader in robots and robot technology. MCRI has developed innovative, powerful, rapidly deployed robotic processes and applications to work together with FANUC's robotics and vision technologies to help our customers solve challenging fulfillment needs.
Robots + Vision + Databases = Improved Fulfillment Processes
Material Handling
Material Handling is the transporting and sorting of goods to move product from one area of the facility to another.
Singulation and Sorting – the process of identifying and sorting items based on scanned information. This can include robotically picking and placing an item on a specific conveyor, pallet, or end location. MCRI has also partnered with Intralox on a number of projects to offload high volume sorting and routing functions to their innovative sortation conveyors.
SmartCarts – moving cases, totes, pallets, or larger product to other areas in a logistics center.
Piece Picking/Placing Strategies – developing a strategy for piece picking or placing. This can include bins, trays, and storage buffers.
Sortation – for automating returns and incoming product.
Robots + Vision + Databases = Improved Fulfillment Processes
Watch video for example of all MCRI offers.

Distribution Centers
Motion Controls Robotics can help you to automate any of the following: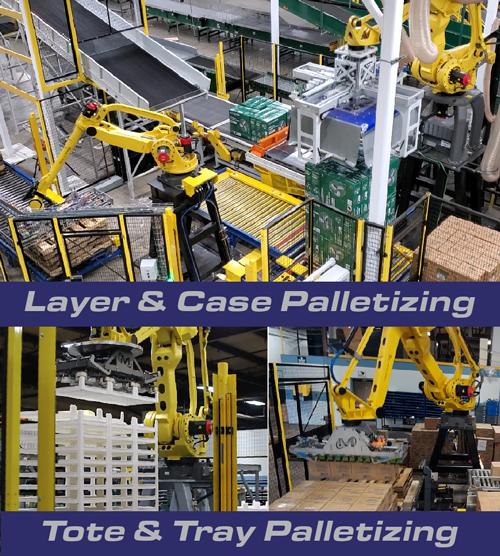 Picking, Packing & Sorting Product
Palletizing Product
Tote palletizing
Case palletizing
Layer building
Rainbow layer pallets
Mixed order pallets
Depalletizing Product
Layer Picking
Case Picking
Mixed pallet picking
Other Solutions
Tape Inspection
Case Erection and Sealing
Stretch Wrapping
Software for Fulfillment Processes
ImpactIQ – Incorporating MCRI's ImpactIQ into a process allows you to store data for each SKU. The robot cell matches data and instructions are followed when a product barcode is scanned up stream. Product can then be routed based on these instructions to the proper area or robot for picking, case packing, palletizing or depalletizing.
FANUC Robots
---
Variety of Options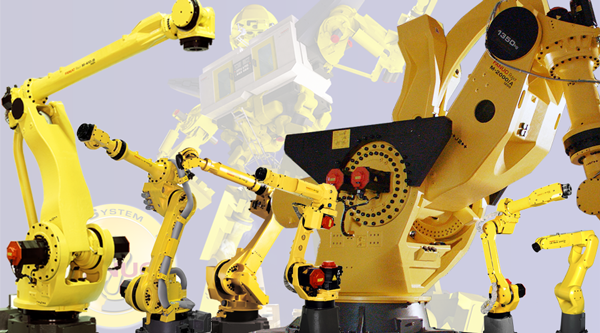 FANUC has 34 robot product families with a total of 220 varieties including both collaborative as well as traditional robots, SCARA, and Delta. MCRI can match your project requirements to as diverse a lineup of robots and software functionality as any integrator in the world!
Reliable
FANUC has over 700,000 robots installed as of 2020. These robots are the most reliable on the market with over 100,000 hours mean time between failure.
Durable and Protected From Obsolescence
With MCRI's 24/7 service and FANUC's promise to supply spare parts for the lifetime of the robot, you can depend on the robot to be trained once and then run your fulfillment task(s) for years to come.
FANUC Vision
---
FANUC Robots have legendary and industry performance setting iRVision integrated into every robot controller. Vision applications include locating, tracking, color sorting, size sorting, motion, and depth finding. Cameras can be robot mounted or fix mounted, and up to 27 cameras can be installed in a single robot cell to scan and sort products.
iRVision Options
2D Vision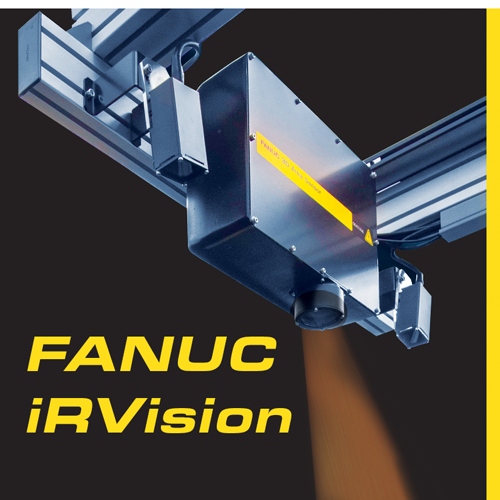 2D Vision is for single layer picking of randomly placed parts on a moving conveyor, palletizing, depalletizing, and for vision inspection. Single or multiple robots can be added to identify, pick and place product on a conveyor. 2D cameras can verify part features, positions, dimensions, and  reliably read barcodes.
2D Vision allows the robot to pick the part the same every time. But, it locates the part in the 2D world (X, Y, R and sometimes Z) so any surface topographic changes are not recognized.
3DL Laser Vision Sensor
3DL is a hybrid sensor developed by FANUC for reliable detection of position and posture. This type of sensor returns 3 dimensional "point cloud" data from any object,  It can be used to locate parts in a bin for a robot to pick, or locate variable sized cases to pick from a mixed case pallet  The 3DL sensor detects part position, thickness, location and depth for pick and place applications, depalletizing, kitting, tote picking, presence/absence check, 3D visual line tracking and many more applications.
3DV Sensor
In the 3D world the robot can locate parts that are all the same color and use the topography of the part to find the pick location. Differing from a 2D camera that would look at that part as being flat and no details about its 3D shape would be found.
3D Area Sensor
3D Area Sensors measure wider areas for reliable part detection. This is commonly used for depalletizing and bin picking.
---
Not too many years ago you COULD NOT use 3D in a "Line Tracking" application. This is what I find as the REALLY COOL part. We can now Line Track (find and pick parts while they are moving) in the 3D world! ~ Lead Programmer
---
---
ImpactIQ is MCRI's standard database software for a wide range of robotic product handling in fulfilment and distribution centers.
ImpactIQ allows MCRI to store an almost unlimited number of SKUs and production data.
Barcode reading and line tracking solutions from MCRI identify then locate the part and get instructions before the part is in front of the robot.  Barcode information can include handling instructions like:
Conveyor Path

Order location
Robot Pick Instructions

Gripper type
Surface to pick

Exception Rules
ImpactIQ collects data for standard and custom performance reporting for product handled as well as robotic automation equipment.  Performance reports can be collected and transmitted anywhere you wish, and as an option can be accessed via internet browser.
Micro-Fulfillment Centers
Robotics and automation are contributing to the growth of Micro Fulfillment Centers as a highly efficient add-on or replacement for the large-scale fulfillment centers. Micro Fulfillment gets products closer to the end consumer to meet the demands and cut the cost of quick delivery.  A Micro Fulfillment Center is a smaller scale, specially located warehouse that can sort and get orders out quickly.
Expect to see these popping up in urban and metropolitan areas, especially in conjunction with grocery stores to build online orders for pick-up. The overall demand is being driven by a change in consumer shopping and current events.
Deploying automation in Micro-Fulfillment centers helps companies to scale work force levels for varying product flow when dealing with high and low demand periods. And, for companies constantly expanding their product offering, adding more SKUs is a breeze with a well-planned automation solution.
Common Questions/Worries about Fulfillment Processes


How long does it take to develop and install a system?
6 -12 months is common once system requirements are defined.
What if I have a lot of SKUs?
With barcode readers, ImpactIQ, and well-planned end of arm tool and conveyance design, variation can be easily accommodated.
How do I know if this will work for our center?
FANUC Roboguide simulation can simulate your project's robot motion, so we can test run your process in a virtual environment before installation.
---
Current Challenges Driving Change
Workforce development costs are not only skyrocketing, but trained employees are often overworked, face repetitive motion injuries, and can be very difficult to find. This human resource issue is a fundamental problem where the job itself cannot pay well because of extreme competition to keep prices low for the customer and at the same time a certain amount of skill and training are required in order to be successful. Employee loyalty to these jobs is low and employees often will leave for better opportunities, or sometimes simply different opportunities because they are bored.
Robots, however, can safely and reliably continue to fulfill orders for years after being trained.
Automating fulfillment centers is the largest growing center for automation. Facilities are seeing that automation solves many of the problems that they are facing today. As well as addressing problems that are upcoming, namely the growing need for online ordering and development of micro-fulfillment centers. It is important to pick an integrator you can trust to help you continue to grow your automation. Schedule an Automation Evaluation with MCRI to get started. We can help you define a plan to automate your fulfillment center processes or get you started in any small section.
---