Pick-Pack-Pal systems are very popular end of line solutions in a variety of industries. These type of systems combine three automation functions into one system to increase efficiency. We integrate pick-pack-pal systems most often for companies in the plastics & containers, food, and consumer products.
Pick-Pack-Pal
Many times, robotic picking and packing go together in end of line processes especially if you have a homogenous production line. Other times picking is used to sort pieces to send them to a specific location before final case packing is done.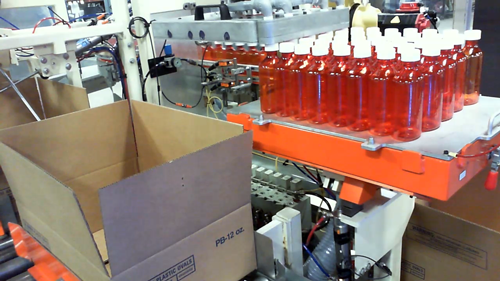 High-Speed Picking– Uses vision to find product and moves it to a programmed location off of an incoming conveyor to another conveyor/location. Conveyors are usually set up to flow parallel, perpendicular, or parallel counter depending on which flow maximizes the robot(s)'s speed. This can help to increase production rates, decrease costs, and increase sorting flexibility.
Case Building, Single Piece – Programmed pieces for orders/cases are picked by the robot as they go by and sent to a specific location for case packing by moving the piece to a new conveyor.
Row Picking – End of arm tool picks a row of product
Layer Picking – End of arm tool picks an entire layer of product
Pick-Pack-Pal
Cases can be packed by single pick and place, row, or entire layer based on the EOAT and the presentation area designed.
Selecting a robotic case packing system Improves:
Efficiency – performs tasks that are difficult for humans
Safety – removes the risk of repetitive motion injuries for employees
Compliance with regulations – verify lot and expiration dates, serialization numbers
Flexibility – meet retail packaging variations including variable pack counts, variety packs, and retail ready packages
Cost savings – reduce floor space and increase throughput
Further automation can be added to keep the process at a consistent speed and quality.
Case Erecting – add a robot to pick and erect cases that will be packed. This is particularly efficient when random case sizes are required for packing.
Case Sealing – add a case sealer to the line to tape/glue cases
Tape Inspection – case sealers can be loaded incorrectly, so quality test for tape ends.
Labeling – add a label with barcoded information to each case.
Pack-Pack-Pal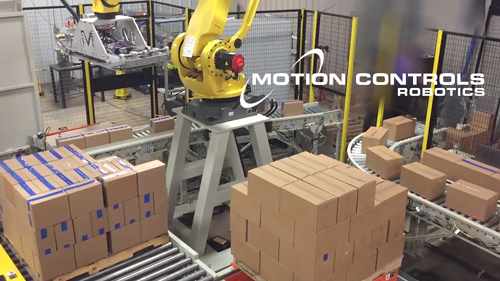 Single and multiple lines palletizing systems can cost-effectively meet your process needs. Companies have the option to select multiple, small footprint single line palletizing cells or one multi-line system that centralizes the palletizing application. What you and your integrator choose to move forward with will be based on product mix, rates, available space in your facility, and end goals.
Down to the Point
So, how much will this cost?
Being a robot integrator, this is probably the most common first question we get.  With the myriad of possible project parameters and solutions, there is a significant range for the final cost. This makes it difficult to just answer that question without knowing more about your process. What we need to know are probably things you can answer without a lot of research (See Deeper Dive).
Rough Cost of a Pick-Pack-Pal System
We do understand some companies are looking for a go or no go answer before they invest a lot of their time digging into details. If you are new to automation, you really may have no idea what a robot systems costs, and you may not even fully understand your cost of operation (which drives cost justification).
Having said all that, here are some numbers based on experience and averages from the past. Obviously, we don't have visibility to your specific needs at this point – but when you are ready with relevant project requirements you can contact us here to help you improve the accuracy of the cost projection.

The rough project costs for a system running approximately 20 cases of finished product per minute might be as follows;
Robotic case packing line – $150,000 to $300,000+
Robotic palletizing line – $175,000 to $350,000+
Case erector w/manual setup – $35,000 to $65,000+ and an automatic random case erector can run $150,000+
Conveyor layout requirements will add cost to all the items above.
Machine manufacturing requirements (stainless, washdown, etc) can also have a significant impact on system price.
The total for a robotic end of line automation solution based on the above values could be in the range of $700,000 or more depending on individual project parameters.
Ready to get Started?
Deeper Dive into Pick-Pack-Pal
So, if you passed the rough cost test and want to know more here is an example of what is next – this requires a bit of a dive into your project requirements.


The scope and design of most robotic work cells depend on many factors. As a tangible example, let us look at an:
End of Line Case Packer and Palletizer for plastic containers
Container type – is it a bottle or a can?
For example, is the container shaped like a cylinder, bottle w/neck, does it have an irregular or symmetrical body?
Container case packing pattern examples:
<–Any number smaller or greater?
Not all the same?  – case packer needs to pack variable patterns/quantities?
Are products oriented vertically – Is the product packed with neck, or opening, upright?
Container size(s)? – what are the physical dimensions of all containers, with the greatest interest being the smallest and largest container you wish to handle on the same case packer.
Container weight when packed?
Cases and Case Erector
In this section, we will review the case information needed:
RSC style case is the most commonly used case and has four flaps top and bottom with overlapping major and minor flaps.  Edges touch on folded flaps (no gap between folded flaps)
Other commonly used cases in automatic packing operations include OSC, FOL, CSSC, ALB, Telescoping Boxes, Double Cover Containers, Folders, and Wraparound Blanks. See more here courtesy of PCA
Other questions include:
Are there any inserts in cases (dividers to keep the product from touching)?
Will you require one or more case erectors to build cases for the case packer and meet the production rate?
If so, will the case erector need to build different case sizes on demand? Or will you run a single case size for some time before the case erector needs to be set up for another case size?
Will the case packer serves a single container filling line, with a single product coming off the line at a time?  i.e. can the case erector be set up to run a certain size case, or does it need to be a random case erector ready to build cases on demand?
Are case flaps glued or taped shut?
Are you confident that the taping operation will be reliable enough that your production isn't disrupted should a bad tape job occur on one or more cases? If not, automatic robotic tape inspection, available from MCRI, could be employed to check 100% of the cases before they move to the palletizer.
Palletizer
Once we know what the product looks like and what the case it is being loaded into looks like, we can move on to pallet patterns for palletizing.  TOPS sheets or similar data are required for each SKU.  Data on those sheets typically include: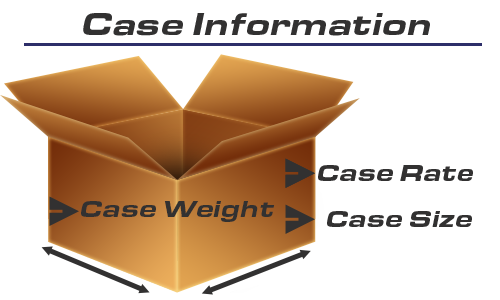 These sheets do not typically include case production rates for each SKU. A spreadsheet with case rate for every SKU included in the TOPS sheets is required to properly size your palletizer capacity.
Environment
When adding robotics, it is especially important to know your facility. If you schedule a time for us to visit your location, we can look for issues that commonly come up when introducing a robotics system. For example,
Does case filling or palletizing happen in unusual environmental conditions?

Washdown required
Refrigerated space
Explosive product

Overhead clearance – will there be sufficient overhead clearance for the palletizing operation?
Floors – will you need unusual leveling or perhaps a new floor in the area where the robot will be installed?
Power and air supply – does your plant have sufficient power and air to run your automation project?
Safety – does your plant have unusually stringent safety practices that will flow down to the robot cell safety design?
Is there sufficient access to the area by forklift to move new equipment into place?
In conclusion, many of our customers' systems are not cost-justified based on labor alone; there are usually other cost parameters or increased production opportunities that make the project cost justifiable. Having a qualified robotic integrator visit your site will provide valuable insight into these areas of your operation.
Contact us so we can help you discover how robots can perform picking, packing, and palletizing with greater flexibility, efficiency, and accuracy than manual operations.
Contact Motion Controls Robotics to Discuss Pick-Pack-Pal