Case Palletizing
– Motion Controls Robotics' latest integration project highlights a common issue many fast-growing manufacturers are facing. They need a way increase throughput using just their current floorspace. This beverage manufacturer was seeing a growing demand for their product and their current system was not able to meet this new demand, let alone future numbers.
Cold Room Case Palletizing – Customer Challenges
The basic challenge of this system was to increase throughput using the current floorspace.
MCRI developed and custom designed a robot palletizing cell to accommodate, not only a cold room environment, but we were able to add another robot and still use their current floorspace to install the system.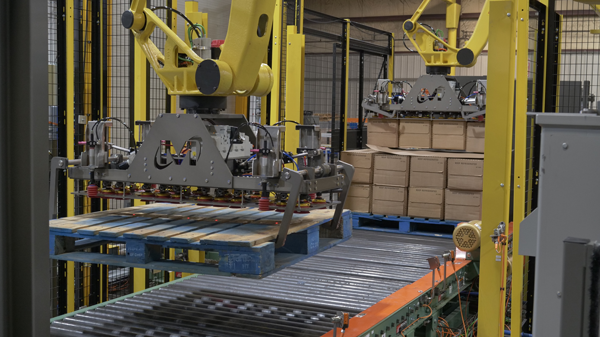 This food and beverage customer was also facing an issue with their current tooling frequently dropping product because the End of Arm Tooling was being negatively affected by the cold room temperatures and was just not functioning dependably.
Cold Room Case Palletizing – Addressing the Challenges
The palletizing robots selected were the FANUC M410iC/185 from the palletizing robot series. The two palletizers fit into the space of a single line, single robot palletizer, doubling palletizing throughput capacity for the same floorspace.
End of Arm Tooling (EOAT)
With the issues in mind, we started by exploring the End of Arm Tooling.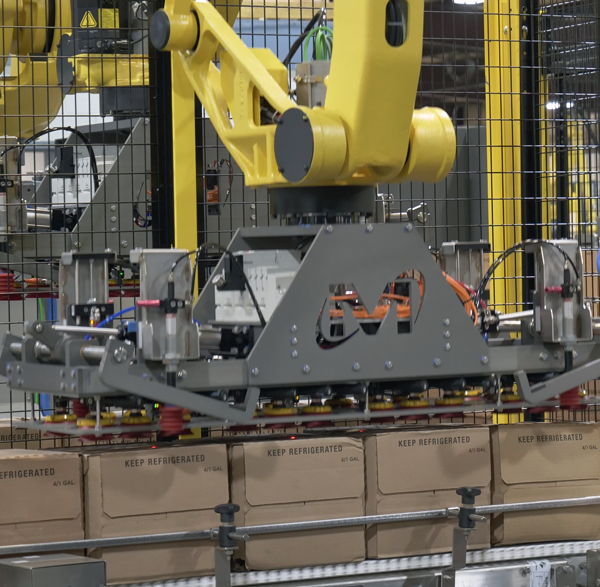 We needed to make sure the tooling was efficiently designed so that two robots would be able to work side by side in one cell space. This eliminated a mechanical/fork tool of any type. We looked at the option of a vacuum gripper and we were able to design tooling to meet the higher palletizing efficiency through improved end of arm tool design. This EOAT would be picking a row of four cases.
Next, we needed to find vacuum cups that would function correctly in the cold room environment – an average of 35°F (1.7°C). We explored what was available and discovered a newer Piab silicone cup to try. Our goal was to run some temperature tests to make sure these were the right product. Piab gave us some silicone cups and we began the cold performance tests to make sure these would do the job for our customer.
Baker, Project's Engineer, elaborates, "We tested cups of various material for cold resistance by placing them for one week into a freezer, and then conducting different stress and compression tests on the cups. After testing we knew that Piab's silicone B75.20 cup was the right one for this application."

Cold-room-palletizing-problem-solved.pdf
---

Sequence of Operations for Cold Room Case Palletizing
The system is divided into Side A & Side B – both sides palletize simultaneously and only share a transfer unit for completed pallets leaving the cell. Listed below are the basic sequence of operation and directly below the SOO is a video showing the case palletizing system in action.
To Start, Both Side A and Side B FANUC M410 / 185 robots pick an empty pallet from the pallet rack and place it on the build location.
Next, cases flow into both Side A and Side B and accumulate 4 at a time on the infeed conveyors. Side guides register cases to the robot pick point.
Then the robots pick four registered cases (a row) and begin to build the pallet load.
After two layers are completed, robots pick a tier sheet from the rack and place on top of the cases.
Each robot continues placing two additional layers for a completed pallet load.
Finished pallets convey through the Side A/Side B light curtain and come to a stop at the center transfer unit. If both pallets finish at the same time, one palletizing cell will be required to wait for the other's pallet to travel to the outfeed conveyor. The upstream conveying accumulates cases during this time. Safety muting logic at each light curtain will allow pallets to travel through the light curtains onto the transfer conveyor without interrupting system operation.
The pop-up transfer will lift the load and transfer the pallet towards the roll up exit door.

PLC opens the Dynatect Rollup Safety Door (refer to safety section for more information)
Pallet exits
PLC closes the door
At the end, the final pallet load is picked up by a forklift driver.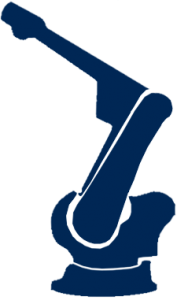 The Robots
We used two, floor mounted FANUC M410iC/185 palletizing robots. You can download the spec sheet for more information.
M-410iC-185.pdf (1228 downloads)
The M410iC/185 uses an R-30iB Plus controller and haptic teach pendant. These 4 axis robots are built for high speed palletizing applications. This model can move higher weight payloads because of its slim arm and flexible wrist – which perfectly matched the customer's need for a smaller workspace.
Safety Features
Motion Controls Robotics follows the ANSI/RIA R15.06-2012 Safety Standard designed to ensure employees and robots work safely together. We take full advantage of new safety technologies and innovations as they become available.
This case palletizing system contains:
The Dynatect Safety door closes off the system to separate it from the operators and passersby. This door helps keep the system running and improves total uptime.
Light Curtains
The light curtains help protect operators that need to enter one side of the system. An operator will be able to access either palletizer side A or B without shutting down the other palletizer. But If the operator breaks light curtain while inside the robot cell, the other palletizer will shut down as well.
Other Safety Features
This system is complete with safety fencing and needed safety sensors.

Customer Results
The system was recently successfully installed and is running at the facility. As a result, the customer is happy to report that they have been able to increase production and the efficiency of the system has met their expectations.