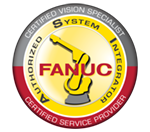 MCRI Robotic Case Study
Integrating Used Robots for Savings
---
Company uses used robots to improve efficiency, consistency and ergonomics
Industry:

Water Well Industry

Customer:

Flexcon Industries (Randolph, MA) is a leading manufacturer of innovative, efficient and high-quality pre-pressurized diaphragm tanks for the professional market. Flexcon Industries has grown to employ over 130 people in its 180,000 square foot modern facility, and is recognized as an innovative leader in the water well industry.
---
Challenge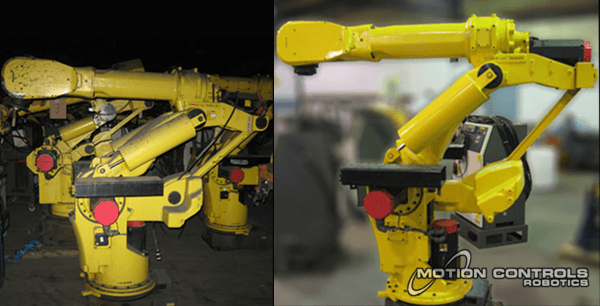 Flexcon Industries needed an effective way to improve efficiency and ergonomics while still producing consistent quality parts for its customers. For 20 years the company has manufactured well water tanks for companies both nationally and internationally and often ships products overseas. Before implementing an automated system, the company had a manual process. Flexcon needed to automate some of its processes to stay competitive in the global marketplace and at the same time maintain the quality and consistency of its products.
Solution

Flexcon worked with Motion Controls Robotics Inc. to develop automated systems and to get projects approved, Flexcon required a good return on its investment. By integrating used robots versus new robots, Flexcon found a significant savings, which made the difference between the project being approved or not.
Four used robots were installed into three different robotic systems. Flexcon Industries has worked with Motion Controls Robotics to implement four robotic systems with used robots in a variety of applications. The robotic systems were integrated with older machines from all over the world, including Sweden, Netherlands and Italy. Motion Controls Robotics designed the system so that the older machines could integrate with the robot. All of the systems use the FANUC S-420iF robots RJ2 robots.
Details
To offer a less expensive solution for a company's automation needs, Motion Controls Robotics provides a large inventory of used robots. With Motion Controls Robotics' experience of designing, integrating and servicing robotic systems, manufacturers can be assured that the used robot will perform well in their new robotic system.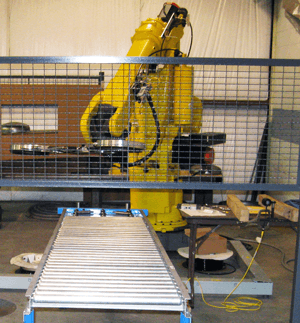 Motion Controls Robotics can create automation solutions with used robots for a variety of applications including material handling (case packing, palletizing and machine tending), material removal, sanding, deflashing, arc welding and vision-guided systems.
To provide manufacturers peace of mind, Motion Controls Robotics provides a one-year warranty following a standard process to change a used robot to a re-certified used robot.
The steps to this re-certification include:
Clean, prep and paint used robot with a two-part epoxy paint, check for backlash and repeatability of all axes to re-certify to the original OEM specifications
Replace any components that don't meet the specifications including the gear box, motors and cables
Conduct a full preventative maintenance check, changing grease and batteries
Load controller with the latest software revision available
Update the base software packages to include material handling, spot welding, arc welding and dispense software
Add any software options including vision, aux axis packages and Collision Guard
Perform an eight-hour runoff at full payload to ensure that the robot is working properly
Result
Ergonomic issues reduced – For the first system, Motion Controls Robotics provided a complete plastic welding cell which welds plastic tanks with two robots. These robots perform a pick and place and a grinder is attached to one of them. If this process was done manually, it would have required six or seven workers per shift. For this operation, the parts are very heavy to lift (up to 40 pounds) and awkward to carry since they are 24 inches around by 5.5 feet. The robots reduced potential injuries and ergonomic issues within the plant caused by the awkward sized parts.
A second robotic system feeds a tester. The robot takes tanks off an overhead conveyor and measures the diameter and length of the tank. Next the robot takes the tank and tests it according to information the robot product provides. Due to the size and awkwardness of the tanks, this particular robot has helped tremendously in avoiding ergonomics issue within the plant.
Cost savings and process improvement – Motion Controls Robotics installed a fourth used robot in a press feeding robotic system in which the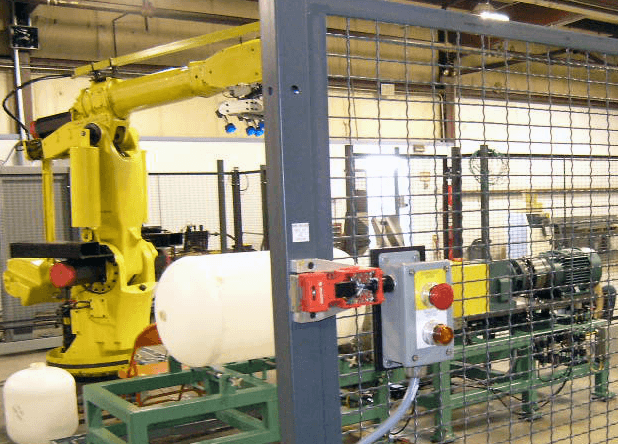 robot loads parts in and out of a press and loads/unloads a trimming machine. This system can run 20 hours a day without a break.
For the most recent press feeding solution, Flexcon Industries compared robot automation to fixed automation and found that they could do the robot cell for the same money. The advantage with the robotic cell is that it could feed the press, but fixed automation could not. For the same investment, Flexcon could automate a larger part of the system.
The new cells made Flexcon Industries more competitive due to greater efficiency and the flexibility during changeovers. Robots are flexible enough to be changed over in a matter of minutes. With manual systems, as well as fixed automation, it would take much longer to do the changeover.
Improved quality – According to Flexcon Industries, the excellent quality that their customers have become used to has been maintained and in some cases improved by the addition of these robots. The automated system picks up the parts and puts them in the same place every time without ever making an error. This is something that can not be guaranteed with a manual system
For example, in the press feeding solution, the robot feeds thin sheet metal into the press. The de-stacker can identify the double sheets and allow the robot to pick up the double sheets and drop them to the floor. If this was not recognized, the tooling on the press could break or be damaged if two sheets were both fed at the same time, which saves on downtime.

Impacting the bottom line – The company has seen its return on investment in about a 2 1/2 year span. The new robotic systems have allowed a small company like Flexcon Industries to become competitive in a market that has become more and more inundated with larger competitors.
We would absolutely recommend integrating used robots," said Lucas Murphy, manufacturing engineer, Flexcon Industries. "We never have a problem with the robot in the robotic cells. Motion Controls Robotics services the robot with a yearly preventative maintenance and we haven't had a robot failure that caused us downtime.

The robotic system makes things go a lot smoother than our previous process when we had workers manually moving the parts," Murphy said. "This is a much more efficient system and we would never go back to manual. We would absolutely do this project again. Because the process is automated, we can manage many things at one time and we have less mistakes and less scrap.

As far as integration goes, Motion Controls Robotics does a fantastic job. They were on target every time and never leave you hanging," Murphy said. "The projects are on schedule, on budget and the engineering works right the first time or with minimal changes.