Just when we thought FANUC robots couldn't get any stronger and tougher, FANUC announces two new, even higher capacity M2000 robots. Previous model M2000 robots have capacities of 900 kg (long arm, or reach version) and 1200kg (short arm version). In FANUC's continuous drive to have the best in class robots for its customers, the new 1700 kg (long arm) and 2300kg (short arm) models will be available soon.
The new M2000iA/2300 and the M2000iA/1700L tick all the boxes for:
Best in class payload
Best in class motion range
Best in class reach
Best in class wrist moment capability
Best in class wrist inertia
Best in class major axis speed
Best in class minor axis speed
Going forward the original M2000iA/1200 and M2000iA/900L will still be available to offer a variety of options in the heavy weight class.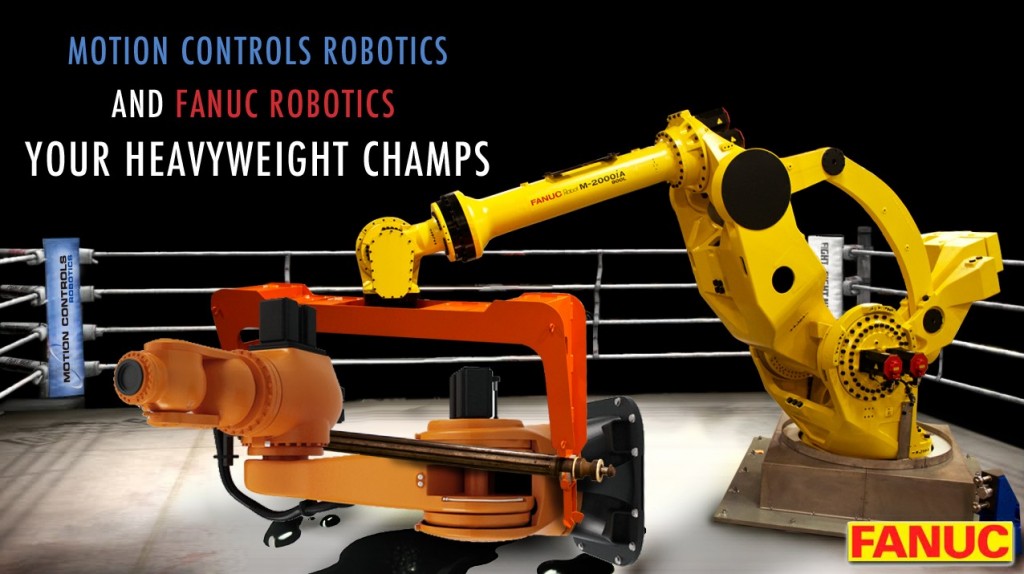 We can begin working with you today on projects that require either of these new M2000 leading edge robots.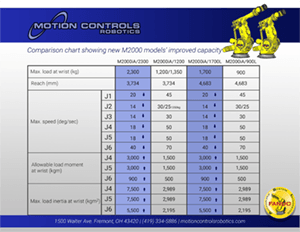 Motion Controls Robotics, Inc specializes in roll handling applications, large flat product palletizing and handling, and other projects where heavy capacity robots are required. We have shipped numerous high capacity robots to customers to date, and have identified a number of applications where they are particularly well suited.
Contact us at 419.334.5886 or use our robot information request form to learn more about the new standard in high capacity, heavy weight robot applications.