Early in 2014, Motion Controls Robotics received another customer order for a robotic packaging cell featuring a FANUC M2000iA robot. The M2000 is the most powerful 6 axis robot in the world. And no integrator in North America has sold more of them to its customers than Motion Controls Robotics. These robots have best in class payload, work envelope, and wrist strength.
Our application engineering team, mechanical engineering department, manufacturing personnel and installation experts were in shock and awe at the first M2000ia robot to be delivered to our plant floor, requiring special rigging and low boy truck handling along the way. We have grown accustomed to the large robots now, and the place seems a bit empty when we don't have one in production!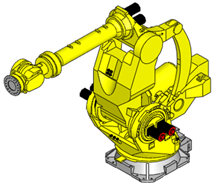 For illustration, the short armed version of the M2000iA/1200 robot has a 1350KG capacity (with wrist pointing downward) or a 1200 unrestricted capacity. The longer arm M2000iA/900L has a 900kg capacity. The most commonly found FANUC robot, by comparison, the six axis R2000 (shown more or less to scale above) has a payload of 165kg with a little more than half the reach (end of arm tool included in all figures).
The M-2000iA/900L can hold a 900kg load (1984 pounds) at a distance of over 4.6 meters horizontally away from its centerpoint. With that kind of beef and reach, what NCAA Final Four basketball team wouldn't want one of these big boys on their team!
If you have a demanding, high payload material handling application you would like to automate, contact Motion Controls Robotics, the M2000iA robot expert. We will put our Champion's belt to work for you.