MCRI's Latest Robotic Integration Project – Multi-Product, Multi-Line Palletizer
Customer Challenges
The customer needed a solution for palletizing, in limited floorspace, two different packaging options for a product they are sending out to a variety of customers. Some of their customers need cases of the product and some need full pallets of rolls. The product comes in a variety of diameters so a solution with easy change-over to different product sizes and packaging was a requirement.
This solution demonstrates the flexibility that robotic palletizing offers our end customers compared to traditional hard automation. To be able to handle the range of products this customer has, from cases to different size rolls and roll patterns, as well as performing case packing with the same robot, is quite an accomplishment. When you combine that flexibility with legendary FANUC robot reliability, our customer has maximized their value with this palletizing system.
Robotic Palletizer System Solution
Motion Controls Robotics designed a multi-product, multi-line palletizer with the flexibility to palletize both rolls and cases. There are two in-feed conveyors bringing rolls or cases to be palletized using the same end of arm tooling. The custom designed end of arm tool can pick and palletize rolls, cases, pallets, and add tier sheets & caps. The system includes racks for tier sheets, caps, and pallets all inside a perimeter safety fence with safety curtains on the openings and safety stops on doors. The type of product being palletized can be quickly selected on the system HMI terminal to allow rapid changeover of the palletizing cell.

Robot used for Multi-Product, Multi-Line Palletizer

FANUC M-410iB/140H
This palletizing system is designed around a FANUC M-410iB /140H robot. This 5 axis robot has a reach of 2850 mm (over 9 ft) and payload options up to 140 kg (308 lbs). It is built to maximize throughput for palletizing applications by being the best robot in its class in speed and repeatability.

Case Palletizing

Rolls being placed in a case for delivery to their customer enter the in-feed conveyor for the case packing line. A Combi case packer erects a case, packs the case with rolls, and tapes the case. These finished cases enter on a separate conveyor line into the palletizer.
Both the cases and the rolls are palletized on the same outbound conveyor. A label is applied to each case. The robot places the case "label out" on the pallet. Throughput- The case palletizing system is designed to palletize 2 full cases per minute.

Roll Palletizing

Rolls to be palletized, without a case, come down an in-feed conveyor where the FANUC M-410iB robot picks and places the roll onto the pallet. There are a variety of roll diameters and pallet patterns including soldiered and offset rolls, depending on roll diameter and customer packaging requirements.

Throughput- The roll palletizing system completes 8 rolls per minute.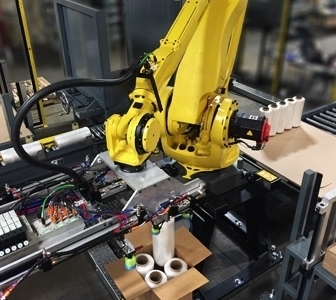 The ability of the robot to pick rolls for palletizing means it also has the flexibility to be programmed for case packing rolls if this application is ever needed.
If you would like more information about customizing this multi-product, multi-line palletizing cell as an end of line solution for your process, contact Motion Controls Robotics.