FANUC's software combination of PalletPRO and PalletTool work seamlessly together to simulate and then run robotic palletizing systems. These software tools are used by FANUC robotics integrators to build, test, debug, and communicate information to customers. PalletPRO is a powerful simulation software that facilitates quick system development and on the fly changes in proposed palletizing systems both increasing productivity and reducing costs. The programming done in the simulation is then handed off to the PalletTool software to manage the robot.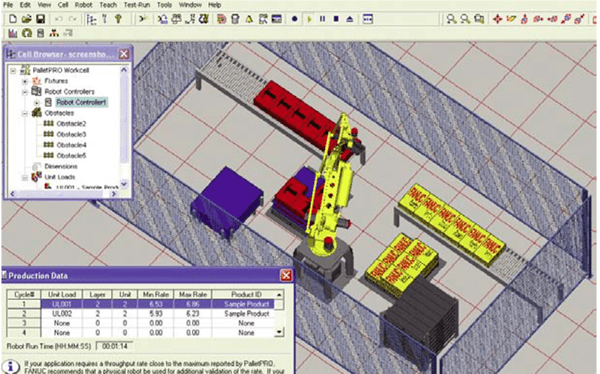 How we use PalletPRO as a simulation software
PalletPRO is used by Motion Controls Robotics to design and problem solve palletizing systems using available floor space, rate and other layout requirements from the customer. Using PalletPRO at the start of the quoting process verifies sales layouts, highlights issues, and helps predict rates. The simulation allows us to easily demonstrate to the customer that the layout of the system and rate needs are all being met. Then once we receive customer approval we continue to utilize PalletPRO to fine tune the layout which includes checking rates, robot reach, and safety constraints.
PalletPRO Inputs
The PalletPRO package includes information and usage of different pallet and slip sheet dispensers, grippers, conveyors, and all FANUC robots. Each of these areas have inputs to show variables such as:
| | |
| --- | --- |
| Distances | Infeed stations |
| Type of palletizing – bag or case | Robot selection |
| Pallet size | Case size/variety |
| Pallet stack | Case rate |
| Type of grippers and their variables | Slip sheet handling |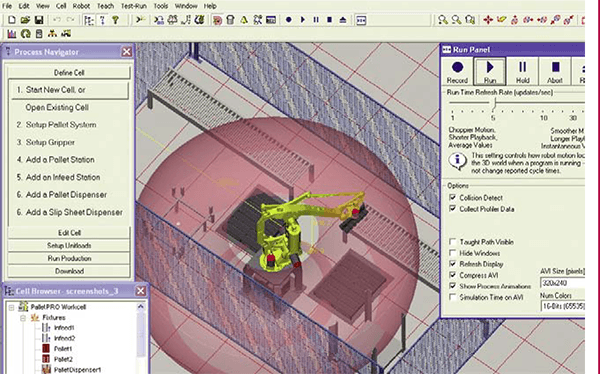 How we use PalletPRO throughout the system's lifecycle
PalletPRO continues to be a useful software tool even beyond the final customer install. During the in-house programming of the robot we utilize PalletPRO to setup and test the Unit Loads that are specific to the job. PalletPRO interfaces with the iPendant to allow for easier operator training. After we install the system, we will continue to use PalletPRO to help the customer troubleshoot issues, add new patterns, or advise them on program changes.
If you would like to learn more about how PalletPRO simulations can improve your total system efficiency, contact us through our online request form.