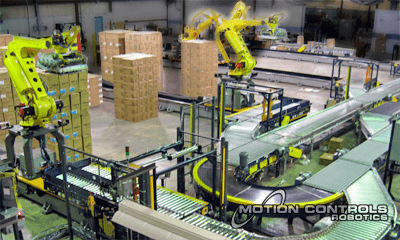 A flexible palletizing system can increase your throughput and reduce your costs. Motion Controls Robotics develops robotic palletizing systems that are highly reliable, flexible enough to handle various configurations and allow for process adjustments on the fly. Each application is custom designed to take into account the customer's process considering options such as pallet size, tier sheets, inserts, top frames, and product order. While Palletizing 101 will focus on palletizing, many times palletizing systems are conveniently combined with pick and place applications to automate an entire end of line process.
Palletizing Robots
FANUC America offers a variety of robots for palletizing applications. These robots all have software and vision options available to increase the flexibility and fine tune the process. Designing the cell by looking at future needs, helps to make your robots reusable and re-deployable if there are product changes.
Palletizing robots generally offer a 4 or 5 axis design.
Palletizing Applications
Some palletizing applications think outside the box or case, because there are a variety of product types that need palletizing. This is where the robot integrator uses experience in the industry to best design a multi-gripper end of arm tool that will match the application requirements and the robot selected.

Types of palletizing applications include:
Case Palletizing/Depalletizing – Needs for case palletizing vary, but in most cases the customer wants to find the most efficient way to palletize and follow guidelines for labeling. This can be done by single case palletizing or mixed case palletizing. It is also becoming popular to automatically palletize shelf-ready display packaging and floor display pallets for distribution centers and retails stores.
Bag Palletizing/Depalletizing – Many products such as pet food, food ingredients, building supplies, lawn and garden products and other bulk products require a bag palletizing or depalletizing solution. Bags can be very heavy and awkward so automating the process is the best choice for employee safety.
Random Order Palletizing/Depalletizing – This application is common for distribution and warehousing where products need to be individually picked and palletized. FANUC's Random Order PalletTool software provides efficient methods for setting up, controlling and monitoring mixed load palletizing applications.
Freezer and Cold Room Case Packing/Palletizing/Depalletizing – Robots are widely used in case packing and palletizing applications in freezer applications to reduce requirements for employees to work in this challenging environment.  End of arm tool design requires special attention for these applications. Frozen goods material handling may also benefit from ceiling mounted, or robots mounted on a floor level or overhead rail for flexibility in removing or adding items to a freezer area.  Ice cream, milk, cheese and other dairy products, meat, frozen RTE (ready to eat) foods and other products produced and warehoused in cold temperatures are great candidates for robotic case packing, palletizing and depalletizing.
Heavy/Bulky Material Palletizing/Depalletizing – Similar to bag palletizing, some loads are too heavy for employees to lift all day long. The best option is to automate the process. This applies to items such as bricks, cement blocks, and panel stacking of boards, insulation or cement.
Roll Palletizing– Robotic palletizers handle product gently. Robotic palletizers can improve quality control of rolled product and other easily damaged loads, versus manual palletizing or hard automation. To secure tall, vertically palletized rolls such as roofing materials, an inline stretch wrapper can be supplied with the robotic palletizer.
Technology
FANUC's PalletPro software allows the robot programmer to input product and pallet dimensional data into a user friendly interface, and to find the best pallet configuration for the application. Steps of the palletizing operation are defined for items like:
• Gripper type
• Orientation requirements for infeed boxes
• Custom Pallet Patterns

Once production data is entered, FANUC simulation software can be used by the robot programmer to check for proper system behavior. The PalletPro software reports efficiency calculations so the programmer can decide which process works best. Read more about PalletPro>>
Advanced Technologies
FANUC offers a range of advanced technologies to improve and fine tune robotic applications.
iRVision/Machine Vision – Vision systems are used in almost every automation process for managing part location, inspection and tracking/bar-coding purposes.
3D Area Scanner (3DAS) – A 3D vision map is developed to scan for products to pick. This can be used to keep pallets straight and to depalletize pallets that have shifted.
Dual Check Safety (DCS) – Safely gives the ability to design safe zones for working with robots. This technology helps decrease floor space needed in the manufacturing environment.
Force Sensing – Force sensing can be used in many ways to dynamically cause a robot to change or maintain forces applied at the end of arm tool. It can be used in a depalletizing operation to check for interference between end of arm tool and the load, for example, or prevent damage to an expensive end of arm tool.
These sensing and safety technologies allow for more efficient, higher quality and more flexible automated palletizing solutions.
If you are interested in evaluating the benefits of adding palletizing to your facility, contact Motion Controls Robotics using the robotic request for information form.