The goal for customers in automating machine tending application typically include increased machine utilization and labor cost reduction. The main concerns of customers new to robotic machine tending include; "How will it affect speed, flexibility, ease of changeovers, quality, and maintenance?"
Speed and Flexibility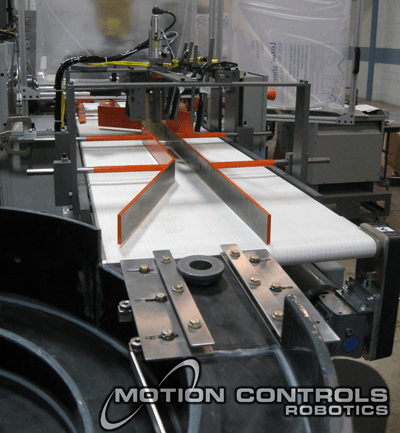 Precise, 6-axis servo-controlled system can be fitted with a single or dual position end of arm tool. Robotic part exchange can be done faster and more precise than by an operator, resulting in increased machine utilization.
Delivery of raw materials to the robot for loading can be provided on a conveyor with part handing fixtures. Or, a turntable can be manually loaded from one side and the robot can automatically pick up parts from the other side. The machine is no longer waiting for an operator to be present to load the machine.
MCRI provides other operator interface screens either on the robot's teach pendant screen or on a separate HMI (Human/Machine Interface) screen to simplify operation of the robot and the machine to keep them working together smoothly and seamlessly.
Machine cycle time drives robot utilization. In a multiple machine arrangement it is possible for one robot to service more than one machine. Motion Controls Robotics can provide a simulation that shows how many robots may be required to service multiple machines in your production area.
Changeovers and Maintenance using Robotic Machine Tending
Thoughtfully designed robotic controls allow simple addition of new parts, and a simple switch from one part to another once programmed.
One of the many reasons we like FANUC's robot controller is that programs can be edited in the background while the robot is running. Elements of the runtime program can be edited live as well. This allows for minimum downtime for the equipment when introducing a new part.
It is possible to have tens, or hundreds of different part configurations stored in the robot controller. A well designed system, like those MCRI can provide, allows easy addition of parts in the future without contacting the robot integrator and without additional robot level programming.
Selecting the part type to be run can usually be will be done through the robot teach pendant. The teach pendant interface supplied by MCRI is intuitive, and our customers have not found a need for a more expensive dedicated HMI for this function.
High reliability and uptime with 80,000 to 100,000 hours mean time between failures on new FANUC robots.
Safety and Quality
Machine tending jobs require inspecting and feeding parts to a machine which can be a repetitive and sometimes dangerous for the people performing the task.
Automating machine tending, and incorporating mechanical or robotic vision inspection can improve safety and relieve quality issues; 100% inspectionand zero safety related events are easily attained goals for the manufacturer through use of this technology.
Robotic Machine Tending Example
Motion Controls Robotics has a significant amount of success in loading and unloading Kitako CNC machine tools and other manufacturers machine centers with FANUC robots.
MCRI developed and installed the CNC machine tending system shown here in this video.
Read the complete Case Study for automated feed, load and unload of a Kitako HS4200N dual spindle CNC machine.
If you would like to learn more about FANUC robot machine tending options contact Motion Controls Robotics through our online contact form.