Integrated Barcode Readers for Case Counting on the Manufacturing Floor
Producers of medium to high volume cased goods with high SKU counts may be challenged to know the exact case counts for each SKU currently in production.  Adding automatic case counting to a new robotic system or integrating it into a current system allows the collection of real time production data from the manufacturing floor as full cases of product exit production and move to a centralized palletizing, warehousing, order filling or shipping area.
Motion Controls Robotics offers a solution to this case tracking challenge.  One or more conveyor mounted Cognex barcode scanners work with MCRI supplied case counting software to scan the barcode applied to or printed on each case as it passes by. The information is saved in a CIM file. CIM files allow multiple devices to speak to each other and use the Extensible Markup Language (XML) schema to record data that can be read and used by various ERP (Enterprise Resource Planning) systems.
As shown in the image below, a quick glance at the HMI shows the number of cases counted in a certain time period and also highlights any misread information.  MCRI can provide output signals from the bar code reader to route cases with misread labels to a reject spur.
This software runs on any industrial PC, and is typically combined with an industrial touch screen so it can be accessed on-floor, adjacent to where the data reading is taking place.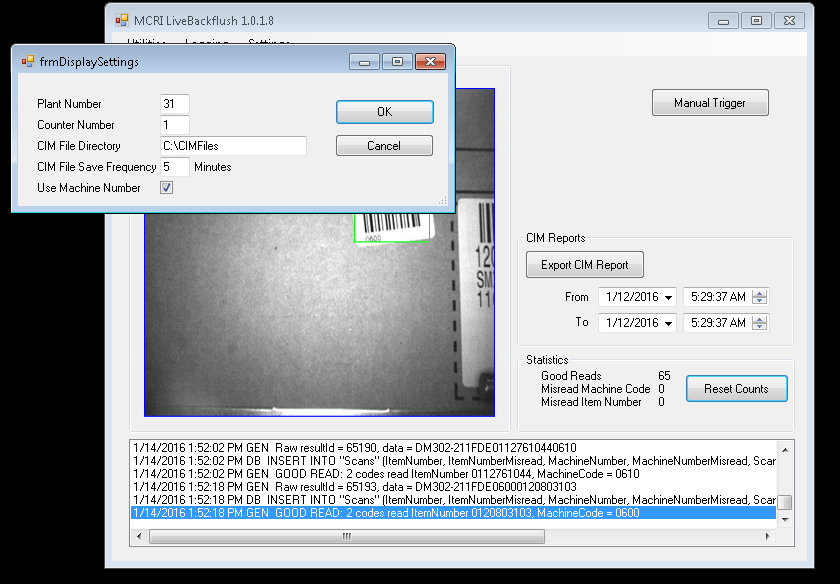 Benefits for Integrated Barcode Readers for Case Counting on the Manufacturing Floor
ties into your existing plant or corporate level work-in-process and production databases to provide instantaneous network wide production data
allows "production back flushing" to accurately reduce inventory levels, provide accurate, timely inventory and production data
uses bar code data from existing bar code labels
Implementing Case Counting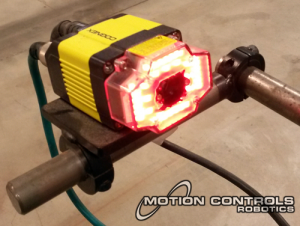 easy to setup and install
relies on highly reliable, proven Cognex vision hardware
accurate
simple to modify, relocate as production requires